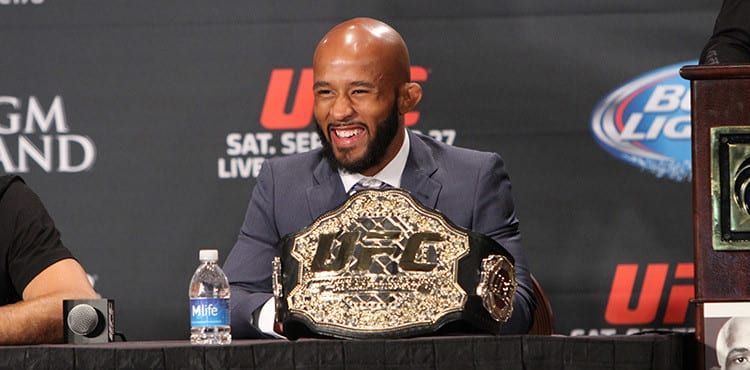 Demetrious Johnson appears to be getting the respect he's long been missing.
After handily defeating Wilson Reis at UFC Kansas with an armbar in round three, and tying Anderson Silva's record of ten title defences, Johnson was left in the middle of the Octagon proclaiming himself as the best champion of all time.
It's starting to become harder and harder to argue with him.
As usual, plenty of professionals and high profile names in the world of mixed martial arts took to Twitter in the wake of the main event to offer their thoughts on proceedings. Here are a few examples:
Main-event WOW this guy @MightyMouseUFC !!! #UFCKansasCity

— Raphael Assuncao (@RaphaAssuncao) April 16, 2017
Mr.Perfect does it again. Bravo MM!

— Coach Kavanagh (@John_Kavanagh) April 16, 2017
Wow…just wow. @MightyMouseUFC so proud to have share the cage with that man. I wish I could get healthy enough to give him another fight 😔

— Ian McCall (@Unclecreepymma) April 16, 2017
The greatest pound for pound MMA fighter alive. The great @MightyMouseUFC https://t.co/hvy1xGx6Am

— Joe Rogan (@joerogan) April 16, 2017
😳 Damn. @MightyMouseUFC has the most beautiful martial arts in the game.

— Lando Vannata (@GroovyLando) April 16, 2017
@MightyMouseUFC is a [email protected]#ing wizard man. Beautiful to watch #UFCKansasCity

— Damien Brown (@beatdown155) April 16, 2017
Holy shit!!! @MightyMouseUFC is the fucking man!!! @ufc

— Alan Jouban (@AlanJouban) April 16, 2017
.@MightyMouseUFC isn't even winded! #UFCKansasCity

— Mike Jackson, Esq. (@TheTruthJackson) April 16, 2017
Freak @MightyMouseUFC

— Amanda🦁Nunes (@Amanda_Leoa) April 16, 2017
Outclassed!!!! This dude @MightyMouseUFC is perfection in there man. Congrats champ

— Daniel Cormier (@dc_mma) April 16, 2017
Wow incredible!!! @MightyMouseUFC does it again!! 10 title defenses!👏🏽

— Carla Esparza (@CarlaEsparza1) April 16, 2017
@MightyMouseUFC has to be considered highly in that conversation. A heavyweight & the lightest weight class contender cant go up or down.

— Gerald Harris (@GHurricane) April 16, 2017
With the win @MightyMouseUFC sets The highest grossing sporting event Kansas City has ever had. $$$$$$

— #UFC214 #LetsGoChamp (@criscyborg) April 16, 2017
—
Comments
comments