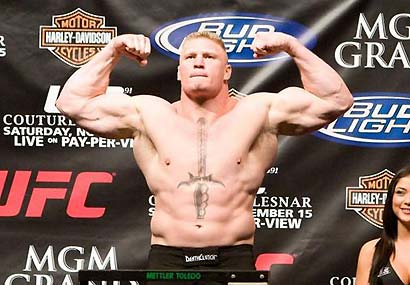 There is a lot which remains unconfirmed as to the status of Brock Lesnar's return to mixed martial arts competition.
Lesnar, the former UFC and WWE champion, is expected to face Daniel Cormier for his heavyweight championship early next year — provided, of course, Cormier escapes unscathed from his UFC 230 main event against Derrick Lewis next month.
UFC president Dana White appears to be entering promotional mode for this particular bout.
Speaking to ESPN recently, White said that Lesnar may be in attendance in Madison Square Garden next month to confront the winner, in a scene which would presumably be similar to that which unfolded immediately after Cormier defeated Stipe Miocic earlier this year when a shoving match ensued between Lesnar and 'DC'.
"Brock Lesnar might be in New York," White confirmed. "That's not guaranteed, we haven't talked about it or anything, but I wouldn't be surprised if he called and said, 'I'm coming to the fight.' I plan on Brock Lesnar fighting soon."
–
Comments
comments