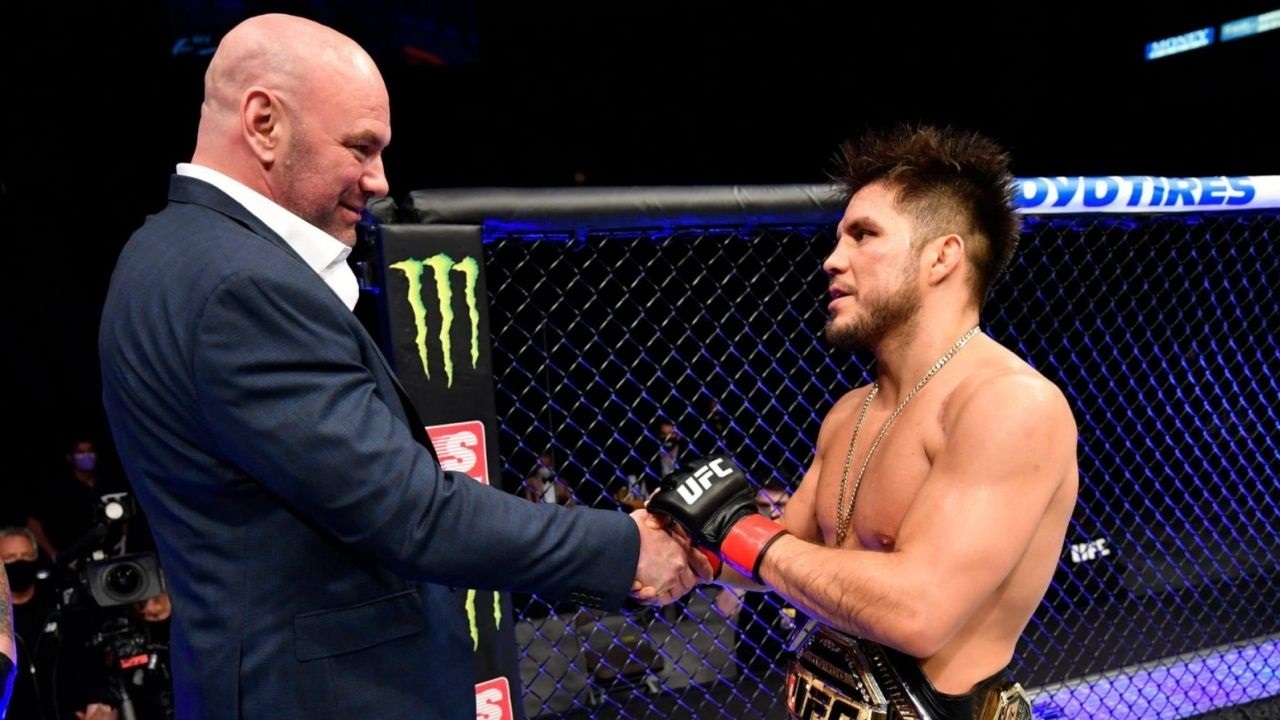 Dana White says that there are certain things that former double-champ Henry Cejudo has to do if he is to challenge Alexander Volkanovski for the UFC featherweight title — and it isn't calling him names on social media. 
The Olympic gold medallist announced his retirement from MMA following a successful bantamweight title defence against Dominick Cruz in May 2020 but has made moves to keep the spotlight shined on him while on the sidelines, the latest of which has been his outspoken pursuit of a shot at becoming the UFC's first ever three-division champion.
But not so fast, says Dana White. If Cejudo is serious about getting back into the cage there are certain steps he has to take, explained the UFC president, and it doesn't start with throwing around insults on Twitter.
"The thing is, Cejudo is retired," White said to Yahoo Sports. "There's a way to go about it if you really want to fight, if that's what you really want to do, you want the Volkanovski fight. What you don't do is – I mean, you could. You could go online and start talking to Volkanovski and calling him names and all this stuff, but what you'd really have to do is pick up the phone and call and say, 'Hey, what's the procedure I need to follow to get back into a fight? I want to un-retire and when can I get back into the USADA pool? How fast and what do I need to do?' That's how you get a fight.
"His manager (Ali Abdelaziz) has 280,000 fighters under contract in the UFC, Cejudo's been here forever. If you really want to fight, get down here and make some calls and say, 'Hey, what do I need to do to get back in to fight? I want to jump back in.' That's how you do it. You don't call people out and call them names on Twitter and then expect we're gonna pick up the phone and go, 'Hey, we've got a fight for you!'"
If Cejudo is serious about fighting again and as White suggests he is not currently in the USADA testing pool, it would be at minimum six months before he would be available to compete — something which doesn't make sense in the context of demanding an immediate opportunity against Volkanovski, who faces The Korean Zombie in April after original opponent Max Holloway bowed out through injury.
"You know how to do it," White challenged him.  "Have your manager call over here and get the deal done. That's why I was saying the other night and the media is saying, 'Well, Henry Cejudo said this and this guy said that,' — it's a silly conversation. This is ridiculous to even talk about. You're asking me about a retired fighter that isn't anywhere near coming back, to take on Alexander Volkanovski, who is in a different weight class, in a short notice fight. Why are we talking about this? How does this make sense?
"If you really want to fight, get on the phone with your matchmaker and get the ball rolling."
Comments
comments