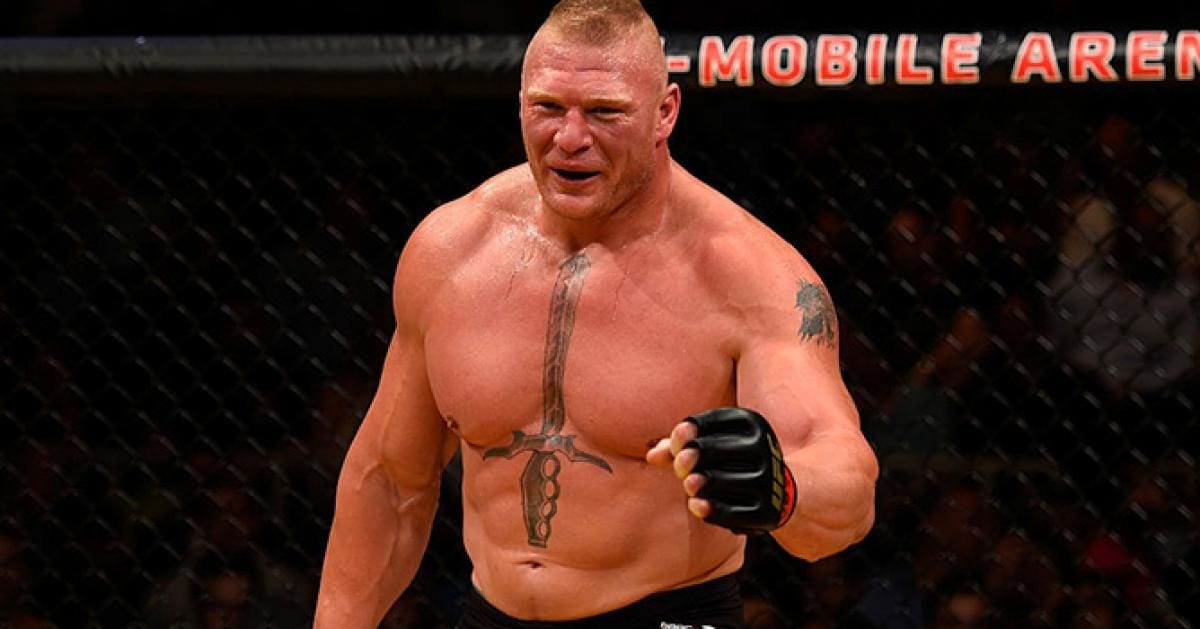 Commence speculation.
Former UFC heavyweight champion Brock Lesnar, now of course an active member of the WWE roster, appears to have teased a comeback to the octagon by appearing with Dana White while wearing a UFC t-shirt.
Lesnar last competed for the UFC at UFC 200 in the summer of 2016 where he defeated Mark Hunt by unanimous decision, though the result of the bout was commuted to a no-contest after Lesnar tested positive for estrogen blocker clomiphene in two test prior to the bout.
His contract with the WWE expires in April after the organisation's flagship Wrestlemania event, though he would not be able to compete for the UFC until August of this year unless with the express permission of Vince McMahon. Lesnar was handed a $250,000 fine for his test failure, as well as a one-year ban, but announced his retirement from mixed martial arts in the wake of his most recent bout. Should he opt to return to active mixed martial arts competition he would have to wait out the final five months of his ban, as well as notify USADA of his intention to re-enter the testing pool.
Lesnar's status as one of the most popular fighters in UFC history remains despite competing just once, against Hunt, since a December 2011 loss to Alistair Overeem. That said, Lesnar also remains one of the WWE's top draws and holds one of the WWE's world title belts and this isn't the first time that he appears to be using the potential of a UFC return to strengthen his hand when it comes to renewing his deal in the world of professional wrestling.
— Dana White (@danawhite) February 26, 2018
Lesnar will turn 41 years old this summer which means that his window to compete once again in the UFC is likely diminishing, so any new deal he signs with the WWE would spell an end once and for all to his mixed martial arts career provided, of course, that the UFC and WWE don't agree to a deal which would allow the heavyweight to appear for both organisations.
His UFC 200 appearance against Hunt came when Lesnar was an active member of the WWE roster and was the result of a special dispensation worked on by WWE and UFC brass.
It remains unclear if Lesnar would consider a multi-fight deal with the UFC but if he does agree to that, it would be a huge shot in the arm for a UFC heavyweight division reinvigorated by Stipe Miocic's record-breaking championship run and, given that the UFC's business model is heavily reliant on pay-per-view sales, well, there has rarely been a fighter on the UFC's books so adept at gathering a crossover audience.
Time will very much tell on this one.
Comments
comments