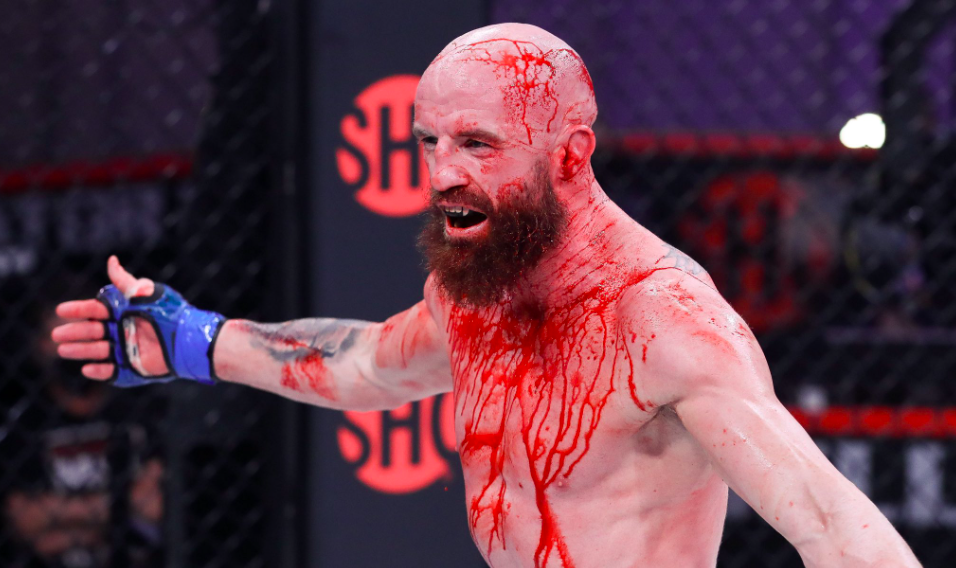 Peter Queally is one of two Irish men to have fought for a major world title at 155-pounds, and 'The Showstopper' aims to scythe through Benson Henderson in the main event of Bellator's return to Dublin on Friday to earn another shot at the gold.
Queally, who is 1-1 against current Bellator world champion Patricky 'Pitbull' Freire, takes on arguably his biggest name opponent to date inside the 3Arena in the Bellator 258 headliner in Benson Henderson, the former UFC world champion and two-weight Bellator title challenger who is held by many as among the best lightweights in MMA history.
And speaking to the media on Wednesday ahead of the battle, Queally said that it is an honor to be held in the same company as Henderson and co-main event fighter Yoel Romero, but when that cage door slams shut in front of a raucous Irish crowd there will be no time for pleasantries.
"It's so cool. I've said this many times in interviews: it's so cool to see myself on the poster, and to be on top of Yoel. I'm such a huge fan of his. I can't wait to meet him and get a picture with him," said Queally inside the Gibson Hotel.
"Same as always. I'm just getting ready for a weight cut now. I know the challenge that's in front of me. It will be very difficult, but I'm down for difficult. I can't wait… When I signed with Bellator, I told them straight away, I just want the hard fights. Especially with the investment they're making in Ireland, I feel like I'm getting the respect I maybe wasn't getting. It's all going good for me.
"If you'd have told me 10-12 years ago when I was sleeping outside in my car that I was going to fight Benson in the 3Arena, I wouldn't have believed you. My family are very proud of me, and it's time to just go out there and do it."
Queally isn't here by accident. A veteran of the Irish MMA scene, he has travelled the globe in search of challenges such as when he headed to the depths of Russia to take on the then 28-3 David Khachatryan — a fight whom Queally finished in the first round inside a pin-drop silent arena.
But with those dues well and truly paid, his rewards are obvious.
"I don't consider myself the B-side here," he said. "We're in the 3Arena, let's not forget. Once the bell rings, he's not going to be Benson Henderson anymore. He's just going to be a guy in front of me. I'm going to go in there and try to kill him, you know what I mean? I don't think I'll be starstruck… I'll try to enjoy it a bit more. I'll try to embrace it a bit more and enjoy."
And as for his unfinished business with the champion?
"I'd like it to be Patricky again. In fairness, there's a bit of a queue there. But I think if I win in a dominant fashion and some of the dominoes fall the right way, I think I could fight him next. I think he likes that fight too. I think he liked fighting here, or that's the sense I got talking with him backstage. I think I could sneak to the title shot."
One path to that goal is straight through Benson Henderson, and you can be sure that the Irish support will be behind him every inch of the way.
Comments
comments