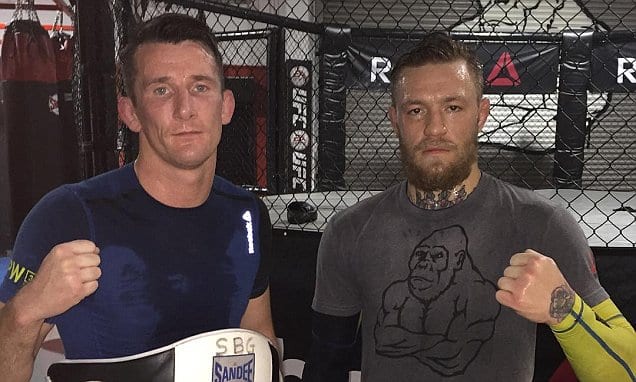 With his win over Kevin Lee at UFC 216 last weekend, Tony Ferguson looks to have cleared a path to an eventual showdown with UFC lightweight champion Conor McGregor. For the Irishman who has previously said that he favours "options" in the fight game, several now stretch forth before him.
Ferguson, along with Nate Diaz and possibly even Khabib Nurmagomedov are all candidates to be the next fighter to stand opposite McGregor in a UFC cage and, according to his coach Owen Roddy, the newly crowned interim UFC lightweight champion wouldn't pose much of a threat.
Speaking with Submission Radio, as reported by MMAFighting, Roddy said that McGregor's skills on the feet would pose too potent a threat for Ferguson.
"His style is, you know, it's not traditional, it's a bit unorthodox and stuff, but I just honestly think that Conor's going to be way too clean for Ferguson," Roddy explained.
"If Ferguson tries to stand with Conor for an extended period of time it will be lights out, in my opinion."
"You know, he's tough as well, he's tough and durable, so he may take a couple of smacks, but at the end of the day Conor's going to be way too clean and too technical to… he won't get touched.
"That's my opinion. But yeah, it will be an interesting one and it will be an exciting fight as well because Ferguson does come to fight and he's aggressive, he goes in, he looks to finish fights, so it will be exciting. But yeah, without a doubt if he wants to stand and bang with Conor it'll be lights out fairly quick, I think."
A trilogy bout with Nate Diaz remains an interesting proposition for both of the fighters, as well as the fans of the sport, even if that particular bout would likely have to take place outside of the traditional confines of linear UFC matchmaking.
For Roddy though, the Diaz rubber match poses the more interesting stylistic questions.
"I think the one unique thing that Diaz has is just that unbelievable chin, and like, I don't think Ferguson would be able to take the shots that Diaz took. Do you know what I mean?
"I think he would be asleep or the ref would have stepped in and have stopped the fight if Conor lands. Where Diaz, like, Conor was landing all the shots on Diaz as well and all the other stuff that we came up with worked against Diaz, it's just he kept coming and coming and coming and coming.
"I don't think Ferguson is as durable as Diaz, so I think we'll be well able to land the shots. You know, there's plenty of holes in there in Ferguson's game and I think we can capitalize and land any shots that we need to land."
Comments
comments