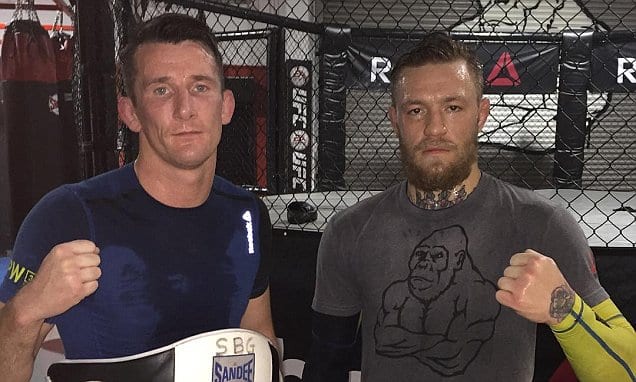 Owen Roddy has seen Conor McGregor throwing the shoulder shots that sent Donald Cerrone reeling many, many times.
According to the coach, McGregor has been implementing them in training sessions for years, with the Irish superstar constantly looking for new techniques and outside the box methods of dealing damage. Besides, Roddy says, if you have any doubt on their effectiveness, all you need to do is examine the post-fight medical reports.
"That's a Conor original," Roddy said, speaking on the Ariel Helwani MMA Show. "He's being doing them for years. People are so shocked … He's been doing in camp. Conor can hit you with anything. Anything that he can legally hit you with, he'll hit you with. But it's phenomenal. For him to do so much damage with it, I believe he fractured Cerrone's orbital and nose and stuff, it shows what kind of power he's generating."
"He is a genius, Conor is. When it comes to being in that Octagon, there's very few people that can do it the way he does it. He's just so switched on, his ability to see shots that nobody does. Not many people are thinking of cracking people with their shoulder."
McGregor's win over Donald Cerrone may have been the most likely outcome in the eyes of the bookies, but few saw McGregor putting Cerrone to bed in just 40 seconds. Even Roddy, who saw McGregor reach a new level in the sessions leading to fight night, couldn't have been sure it would end the way it did.
"It's hard to know. You're dealing with Cerrone who's a phenomenal fighter who has loads of tricks and plenty of weapons and stuff," Roddy said. "But I did know that Conor going [into the fight] in a good place in his mind, confident, enjoying his training and in phenomenal shape, I knew that once he lands it's going to be very tough for Cerrone to come back from that.
"Conor came out, he was aggressive, he was fast and to be honest Cerrone didn't even get off the mark."
Comments
comments