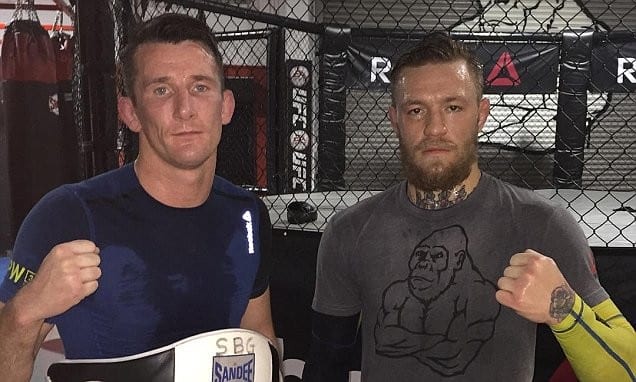 While Conor McGregor's foray into boxing will likely be the biggest combat story of this year (if not this decade), it's fair to say that mixed martial arts fans are excited to see him back inside the UFC cage.
In McGregor's absence, there have been a few names rise to the top of contention. Tony Ferguson and Kevin Lee will be fighting each other for the interim 155-pound belt, which could well set them into contention for McGregor's return.
Another name, and a face Coach Owen Roddy wouldn't mind seeing McGregor face off against again, is Nate Diaz.
"I would probably like to see Diaz 3, but obviously you've got Ferguson and Lee fighting for the interim belt," Roddy said, speaking on Monday's The MMA Hour. "If he's to fight MMA again, it will probably have to be against the winner of that. In my opinion, the reason I say Diaz is because those fights are so exciting. The build up is so exciting. The back and forth — here is nothing like it. It's just a mad scene.
"The two fights against Diaz were probably the most exciting camps that I've been part of. And to do that again would be unbelievable. I can honestly say the fans would like that over everything else."
Not that Roddy is prepared to rule out the change of McGregor remaining in the world of pugilism.
"If I was to pick MMA, I would definitely like to see the Diaz fight. Boxing, who knows?" Roddy said. "I saw today that there was talk about him fighting in Australia against the lad that beat [Manny] Pacquiao, Jeff Horn. Who knows? It's an unbelievable spectacle whatever Conor does, so I don't know.
"I like the idea of that Diaz fight. But I'm sure if it doesn't happen next, I'm sure it's down the line."
One person Roddy is more prepared to rule out is Paulie Malignaggi, the man whom has issued a consistent press campaign against McGregor in an attempt to get a fight with the Irishman.
"I saw that already. I saw that twice," Roddy said. "It was easy work."
Comments
comments