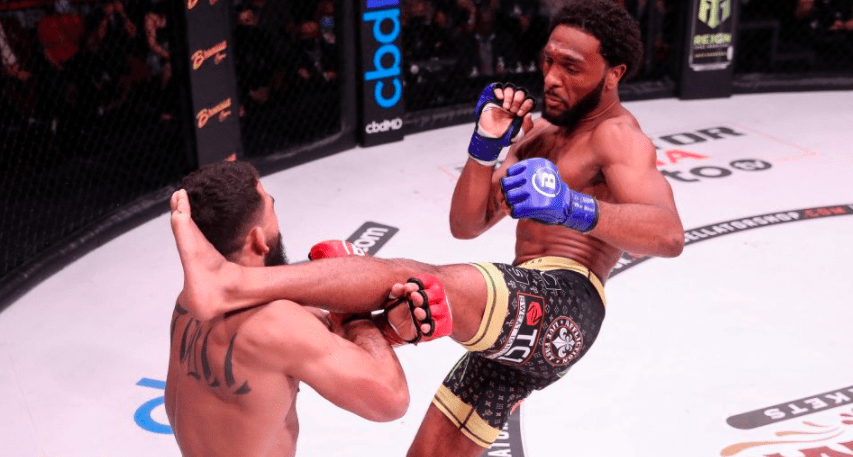 Everyone once in a while in MMA, it is clear that a star has been born. 
A.J. McKee, the son of former UFC fighter Antonio McKee, is certainly that. Long considered to be one of the brightest featherweight prospects in the sport, McKee took less than two minutes to ascend to the Bellator 145-pound world title when he first dropped then-Bellator double champ Freire with a high kick, before finishing the fight with a standing guillotine moments later.
The fight was the culmination of Bellator's 145-pound Grand Prix, with a cheque for $1 million having since been awarded to McKee, who now sports an impressive record of 18-0.
For Freire, one of the 'Pitbull' brothers who have defined much of Bellator since its inception, the result was tough to swallow — but he admits that the better man won.
"On this night, he was great," said Freire post-fight, as noted by MMA Fighting. "He kicked my head and he almost knocked me out and he almost finished me on the same night, so he was good. Congratulations. Now he's the champion."
Freire had initially protested the stoppage (in which he didn't actually tap) but upon reviewing the footage, he says he understands referee Mike Beltran's position.
"I watched the fight. I knew I wasn't asleep, but I saw my hands [start to drop]," Freire said. "I was standing, but that's it. A fighter wants to fight until the end. That's my mind.
"I spent a lot of years without being defeated, and today is a new day for me. It's a different kind of feeling, and I want to rest a little bit, enjoy my son, my wife. But I will come back stronger. I know that. Everyone says that when they get a defeat, but I am different."
Pitbull, though, remains the Bellator lightweight champion — and says that he welcomes the idea of defending that title against McKee before long.
"Before the fight I think he told somebody something like this, and it's a good thing," Freire said. "He beat me in the featherweight division. I know he's big, he has trouble cutting weight. And let's think about it. I have a belt. I'm still a world champion."
Comments
comments