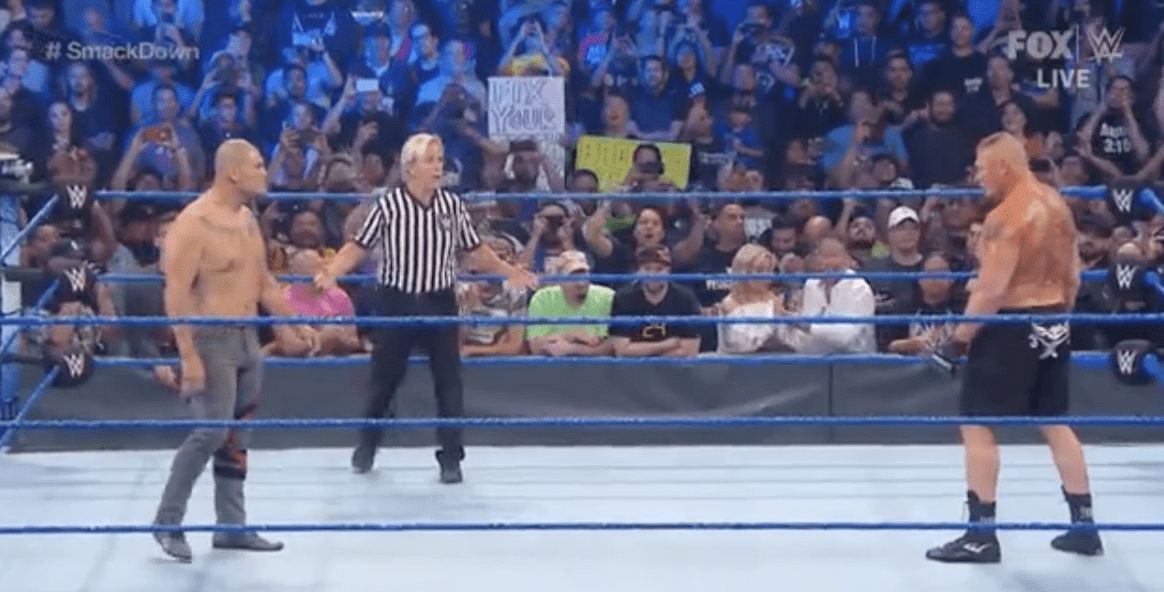 Former UFC heavyweight champion Cain Velasquez is hoping that his recent appearance on WWE programming in which he resurrected a nine-year old feud with Brock Lesnar isn't a one shot deal.
Velasquez was featured on last week's episode of Smackdown! Live when he was introduced as Rey Mysterio's muscle after Lesnar had (in pro-wrestling terms at least) put a beating on the hugely popular lucha libre fighter of Mexican extraction. Not just that, the angle also had Lesnar attack Mysterio's real-life son Dominick, a storyline which prompted Mysterio to seek the help of someone who has prior experience in slaying the man known by WWE fans as 'The Beast Incarnate'.
View this post on Instagram
Of course, this isn't Velasquez's first foray into the world of professional wrestling. Earlier this year it was announced that Velasquez had inked a deal with Mexican wrestling promotion Lucha Libre AAA Worldwide and has made several appearances since under that banner in the hugely popular organisation.
His WWE appearance is likely the first in a series of showdowns between Velasquez and Lesnar which will likely build to a match between to the two in future, however in an interview with ESPN Velasquez confirmed that he hasn't yet officially signed with the sports entertainment group.
CAIN VELASQUEZ ON WWE 😱

Former UFC Champ attacks Brock Lesnar on #SmackDown

(via @WWE)pic.twitter.com/4Qqtt8ctHZ

— Bleacher Report (@BleacherReport) October 5, 2019
"That's correct, not officially … but hopefully," he said when questioned on whether he has a WWE contract in his possession. "With tonight and doing what I did and kinda working with them … I would love to work with them. I would love it."
Velasquez has officially withdrawn from the USADA testing pool and have been removed from the official UFC rankings suggesting that his MMA career is on hiatus, temporarily or not. The other angle to approach this from is that Velasquez's star could surge significantly in the WWE, potentially leading to a whole new market of fans wanting to see him return to the UFC one day.
"I feel like fighting will always be there," he said. "I feel like I have the skills. This at the time is just really fun for me. And who knows where I'll go from here but I'm enjoying what I'm doing and that's it for me."
Velasquez also confirmed that Dana White has given him his full blessing as he exchanges the octagon for the squared circle.
"They like it, yes. They talked to me, we've talked and [Dana] loves what I'm doing. And that's awesome, to have the support of Dana White like that? That's awesome."
Comments
comments