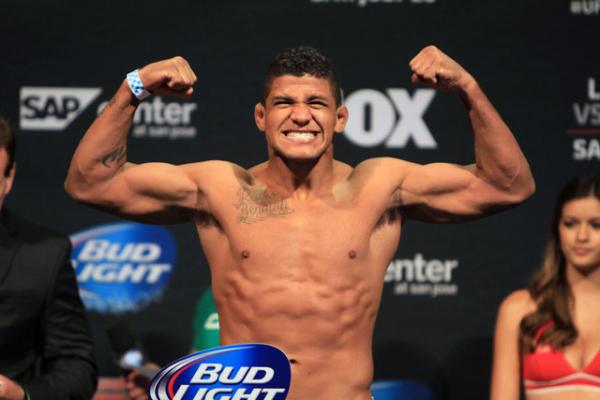 Despite all the histrionics sometimes associated with mixed martial arts, it is rare when someone fights another person whom the genuinely dislike. What's even rarer, though, is when two friends or training partners fight each other. 
This is the position that Gilbert Burns finds himself in as he prepares to challenge his training partner Kamaru Usman for the UFC welterweight title on 'Fight Island' next month. Burns ascended to title challenge territory following his win against Tyron Woodley recently (usurping Jorge Masvidal in the process) and, as he told MMA Fighting, preparing to fight someone that you have trained alongside is a strange sensation.
"On Monday, right after the UFC Las Vegas card that my brother fought at, I ran into him in the gym when I came back," he said. "He stayed here that week and then went to Colorado to finish his camp. We spoke, and it was all good. He said, 'Let's fight, leave it all in the octagon, and then we'll have a beer together.' It will be very professional.
"I was surprised when I saw him. But I was like, 'Oh, he's here, cool, let's have this talk today.' It was even better that he was there, actually. It was OK. I knew he would show up in the gym, but I didn't know when. It was a bit weird, but it was very light."
Henri Hooft, Burns says, trains both fighters and has removed himself from the equation this time around, while Usman has gone to train under Trevor Wittman temporarily — but Burns hasn't allowed the somewhat strange preparations to distract him from his ultimate goal.
"I'm going there to knock him out or submit him," Burns said. "That's what I want to do, but I think it's going to be a war. I think Kamaru is tougher than Woodley and Demian (Maia), my last two fights. I had a great performance, but Kamaru is a different person, and I think it will be hard to either knock him out or submit him. That's what I want in the fight, a finish, but I think it's going to be an intense five-round war."
After that war, Burns says that he will be crowned the division's new standout fighter — and it will be culmination of thousands of hours worth of blood, sweat and tears as he prepared for this very moment.
"In the beginning of my career, I've always had plans, dates, the year I wanted to become champion, but things happened different and I got very frustrated," he said. "I stopped l thinking about dates. I knew I would become champion, I knew I would fight for the title, I knew I would headline a card. I knew it would happen one day, but I decided to relax and let things happen. And it came. I didn't know when, but I always believed I would be the UFC champion."
Comments
comments