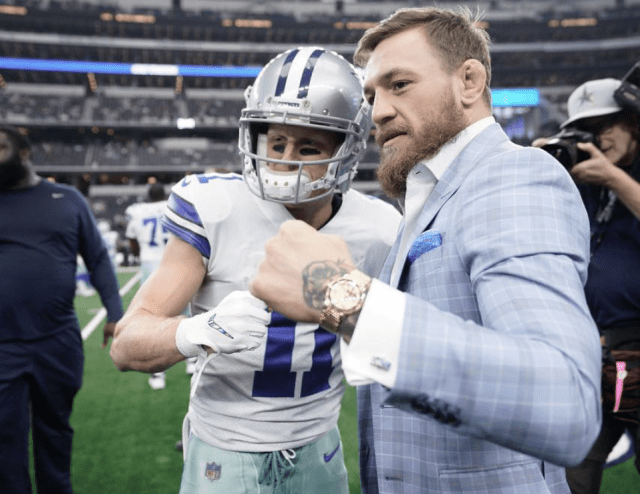 While he didn't quite utter his occasional "I am [insert sport here]" while being paraded through AT&T Stadium on Sunday, Conor McGregor certainly made quite the impression on the Dallas Cowboys and their supporters. 
McGregor, in town as part of his promotional duties for Proper Twelve, took in the Cowboys' rout of the Jacksonville Jaguars as a guest of owner Jerry Jones who was described by reporters as "[the most] accommodating celebrity visit the Cowboys' sideline [has ever seen]."
Indeed, per 5PointsBlue, the only celebrity visit which came close to McGregor's was a visit by Nelson Mandela almost 20 years ago long before the era of smartphones and selfies.
Numerous members of the Cowboys locker room are big fight fans and, as team captain Zack Martin explained, the team were committed to paying tribute to the Irishman on the scoreboard.
"Jeff (Heath), who's a huge fight fan, probably the biggest fight fan we have, came into the locker room (after warmups) and said, 'If I get a pick today, I'm going to do the Conor McGregor strut," said Martin. "When he got (the interception), we all ran onto the field and everyone started doing it. It was pretty sweet."
And while McGregor's throw of the pigskin didn't quite match the 3-point shot he sank on the Madison Square Garden court a couple of years ago, his impact on the sidelines has earned him a legion of new fans — not least, reporter Kristi Scales.
Of all the celebrities we've had over the years on the @dallascowboys sideline, @TheNotoriousMMA Conor McGregor has created the most buzz!! pic.twitter.com/6uGAKg2cCi

— KristiCowboySideline (@KristiCowboy) October 14, 2018
Conor McGregor at the #Cowboys gamepic.twitter.com/oWzzzsWlGj

— Dov Kleiman (@NFL_DovKleiman) October 14, 2018
"Let me say this about McGregor: I've never seen a more accommodating celebrity visit the Cowboys' sideline. In about a 20-minute period, he posed for several hundred photos. I'm not kidding. Everybody…and I mean EVERYBODY…on that sideline wanted a photo with him. And he accommodated every single person.
"Whether it was the ball boy, the chain crew, television photographers, sponsors, Cowboys' family members, technical crew, VIP sideline guests…I've never seen that many people clamoring for photos."
Comments
comments