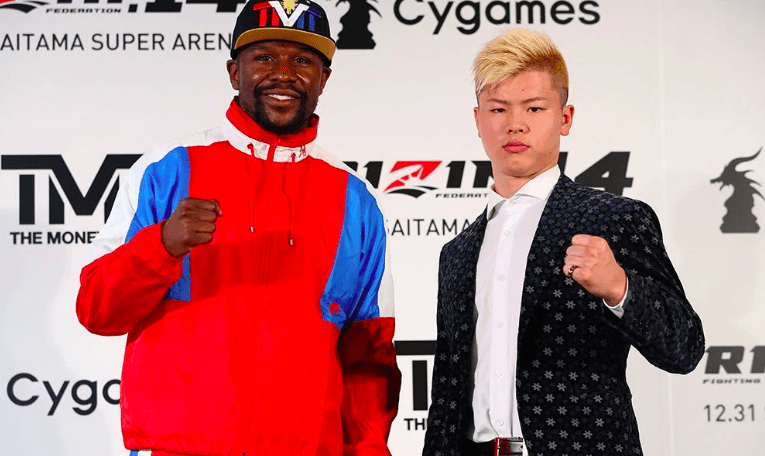 Nobody was really quite sure of what to expect in advance of the Floyd Mayweather vs. Tenshin Nasukawa 'exhibition' bout which headlined the Rizin 14 card from Tokyo, Japan, on New Year's Eve but what we got was even more bizarre than predicted.
Nasukawa, the 20-year-old undefeated kickboxer, was thoroughly undone by Mayweather who knocked the Japanese to the canvas three times inside the bout's opening minutes — the third of which was enough for Nasukawa's corner, who immediately stopped the bout.
Mayweather outweighed his opponent by 9-pounds on fight night but in reality it appeared as if several weight classes separated the two fighters. Indeed, Mayweather's last bout came at 149.5-pounds while Nasukawa fights in the 125-pound division and it was a size disadvantage that proved insurmountable.
After the bout, which lasted just 140 seconds, Nasukawa released a statement on social media in which he says that he enjoyed the experience but that he expected that he would perform better against the former multiple weight world champion.
"The days since the fight was confirmed have been enjoyable but with concerns," he wrote.
"I am disappointed at myself since I thought I could have done better. But I will face the facts and will continue to take on any challenge. I learned that I didn't work hard enough to earn this opportunity, and I will use this defeat to improve myself and move forward this year."
Despite the outcome, Nasukawa says that he has no regrets about accepting the fight with Mayweather.
"When I first got the offer I took it in a flash," he says.  "I thought this was an opportunity of a lifetime, and although there were significant differences in accomplishments and weight classes, I felt that I must not run and take on the challenge.
"Despite all the things that happened leading up to the fight, I came to realise how truly great Mayweather was. I was the one underestimating him. I promise to make it to that level."
Comments
comments