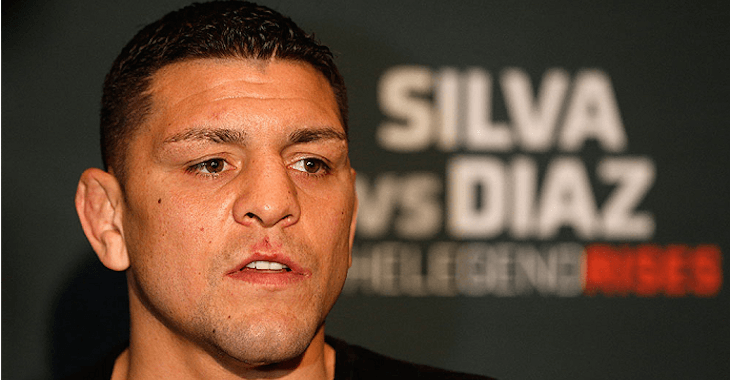 Nick Diaz says he was rooting for Conor McGregor at UFC 229, and wants to step into the Octagon to meet Khabib Nurmagomedov in a catchweight bout following the lightweight's win on Saturday.
According to Diaz, McGregor didn't look his usual self in the cage, and Nurmagomedov used that to his advantage.
"I don't think Conor looked himself in that fight. I don't think he looked all 100-percent Conor McGregor in that fight," Diaz said, speaking with FOX Sports. "I wanted him to win because I'm tired of seeing that type of style to win. To me it's just a dirty fighting style."
"I think my brother could beat him… I definitely know I can beat him." @nickdiaz209 speaks on #UFC229 Post fight melee, and Khabib's "dirty" fighting style. pic.twitter.com/UWNbAKCnoj

— FOX Sports: UFC (@UFCONFOX) October 8, 2018
And, while it seems unlikely to happen anytime soon, the older Diaz brother believes both himself and Nate could cause Nurmagomedov problems with their notorious jiu-jitsu game.
"You have to have a certain style to beat that type of wrestler on the ground," Diaz said. "McGregor's brand new on the bottom. I think my brother could beat [Nurmagomedov]. I definitely know I could beat him. We'd have to fight at a catch weight, I ain't trying to get down to 155 pounds.
"You've got to be someone like McGregor but you've got to be able to survive that bottom game. He didn't have the right defense on the bottom, [McGregor] didn't have the right formula on the bottom."
Diaz hasn't fought since 2015, but continues to remain a notable figure in mixed martial arts. Something, he says, originates from his style of fighting in comparison to his peers.
"Two things people want out of mixed martial arts right now — it's more of me and less of you," Diaz said. "Less of the wrestler, defensive boxer and wrestler puts on a boring fight. It's just a dirty way of fighting."
Comments
comments