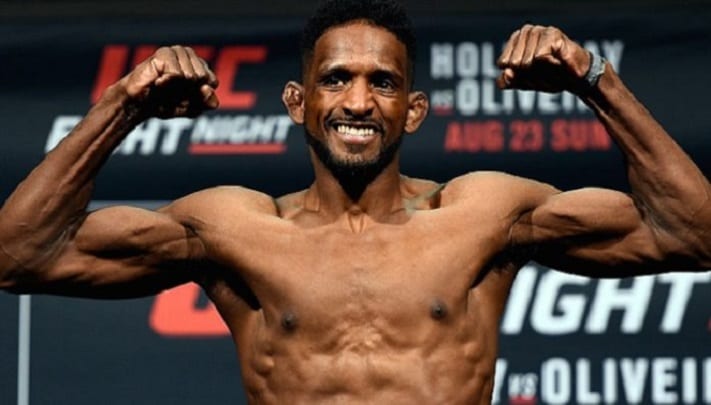 When a knee injury forced Gunnar Nelson to withdraw from his UFC Liverpool co-main event opposite Neil Magny it left the American welterweight racing against time to secure a bout agreement with a replacement fighter.
After Nelson's withdrawal, Magny was sent a link to a GoFundMe donation page for Presley O'Doherty, a little girl who suffers from spinal muscular atrophy and was so moved by her plight that he pledged to donate $15,000 of his fight purse to the cause if the UFC were able to secure a replacement opponent for him.
Step up Craig White. The Cage Warriors competitor has won four straight (three inside the first round) earning him the attention of UFC matchmakers and once Nelson pulled out of the May 27th bout the Englishman's name was at the top of the organisation's list to replace him.
"I started reading about this girl and her condition on her GoFundMe and I realized how much of a drastic situation her family are in," said Magny to UFC.com. "That's what really inspired me to dig deep and make a bigger contribution than anything I've every done in the past.
"I've always contributed to things I've felt some kind of way about in the past – a charity or whatever – but it was always something comfortable for me, like, 'Oh, I'll give a hundred bucks.' But I'm in a position where I'm able to help this person out and I should do it.
"When I look at it, I'm grateful for the opportunity to fight and blessed to have the opportunity to fight, but this girl is literally fighting for her life and I felt really compelled to make a donation."
As for the fight itself, Englishman White will likely prove a handful in front of his compatriots but Magny is taking the bout in his stride.
"(The fact that he's a newcomer) doesn't bother me at all," says Magny. "At the end of the day, I know he's going to come into this fight guns blazing."
"He has a chance to gain everything that he wants and it's right in front of him, so that's a guy that I can't take lightly. This is the kind of fight I can't walk into thinking that I've already won it; it's the kind of fight where I need to be on my toes, I need to be aggressive and go out there and claim what's mine and not sit back and be passive about it.
"At this point, it's not about whom I fight anymore. I've proven with the guys that I've fought in the past that I'm willing to fight anyone and I've done pretty well against those guys. At this point, it's about how I fight.
"Right now, I have an opportunity to go out there and shine. It's an opportunity for me to go out there and showcase the things that I've been working on in training and have the UFC and the fans be like, 'Oh damn – that's a side of Neil I haven't seen before! I'm excited to see what this guy does next!'"
Comments
comments