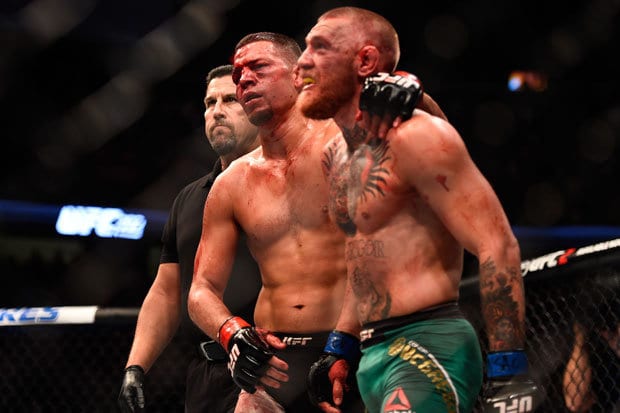 They say a rising tide lifts all boats.
Conor McGregor is already the owner of the biggest purse in MMA history and, after last weekend, one of the biggest in the long and storied annals of boxing. With McGregor's next bout expected (though not confirmed) to take place in the UFC, some focus has been switched to McGregor's potential purse and several analysts have speculated as to what his demands might be now that he is firmly established as one of the biggest figures across the wide spectrum of combat sports.
McGregor's purse for his UFC lightweight title winning performance against Eddie Alvarez at UFC 205 last November was speculated to be in excess of $3.5 million, a figure which is the largest in MMA history but dwarfed by the Irishman's earnings in Las Vegas last Saturday night.
Given that he has arguably emerged from the Mayweather bout an even bigger star than he was prior to it, the UFC will likely be compelled to increase his disclosed pay further north from where it currently stands. The knock-on effect from that is that whoever ends up standing across the cage from McGregor upon his return will find themselves in an advantageous negotiating position too.
Hints coming from McGregor's management have suggested that there is unfinished business with Nate Diaz. The series between the two fighters currently stands at 1-1 and a rubber match is among the most potentially profitable bouts the UFC can make at the moment.
And, judging by recent comments from the Diaz camp, they know this too.
Speaking to Submission Radio Richard Perez, Nate Diaz's boxing coach, outlined what their demands would look like if they are to reignite the rivalry with McGregor.
"At least $20 million, $30 million," Perez said, when asked what type of purse his fighter would be looking for. "Come on. UFC's making a whole lot of money, a whole lot of money and they're pocketing it. They're giving more to McGregor, so it's not fair because it takes two in that ring to draw a crowd – I mean, a good two fighters.
"It's just like Mayweather when he fought Berto. It was not even sold out at all. It was embarrassing. It's because that guy couldn't draw a crowd. See, that's what I'm saying, it's the fighters that draw the crowd, and Nathan and McGregor, third one would be outstanding. Everyone knows that. So he needs to get paid at least $30 million easy."
Now, it's highly likely that the UFC would resist this type of demand for numerous reasons. First, it smashes their own established pay structure. Second, given McGregor's status as the 'A-Side' in any third bout with Diaz, it is likely that the Dubliner would seek a figure far in excess of what was being paid to the Californian.
After last weekend, and with Floyd Mayweather now officially retired, McGregor stands alone as the 'money fight' in combat sports and it appears that this has been recognised by Diaz and his camp.
The figures Perez mentions are unlikely to come to fruition but given the occasional criticism of the UFC for underpaying their fighters, if McGregor's success raises the monetary glass ceiling for mixed martial artists his impact on the sport could be far more wide-ranging than just his successes inside the octagon.
Comments
comments