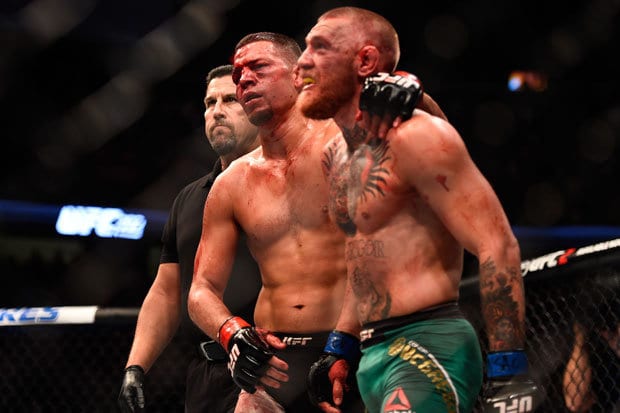 If there's a word you can describe Nate Diaz with, it might as well be 'real.'
The UFC fan favourite has basically become a mixed martial arts icon over the past few years because of his unfailing and uncompromising beliefs in what the sport and fight game should be. Case in point, he's only recently returned from 3 years on the sidelines after determining "everybody sucked," and already has found himself in the biggest fight of the year with Jorge Masvidal — all entirely based on being real to who they both are.
It does beg the question what happens after November 2 if Diaz wins. Considering his low opinion of the rest of the UFC roster, perhaps it would be time for a third fight with Conor McGregor — perhaps one of the biggest contests the UFC could book currently.
In an interview filmed a month ago at Madison Square Garden with veteran MMA reporter Ariel Helwani, Diaz was asked if he felt Conor McGregor wanted to be apart of this latest 'baddest motherfucker' trend he and Masvidal are putting on. For Diaz, the entire thing is all just a case of timing.
"He understands all about the real shit too though," Diaz said of McGregor. "I could hear when I fought him, when I fought him I was like, 'Oh you're really trying to get into a fight'. You recognize the real fight game. We got something on our hands here, a real fight. That's what drew the trash into that fight, the realness of that shit. There's nobody like that in the fight game, it's becoming a sport, it's fucking silly, and when you're sticking around, still winning in this and getting hold of that mic, people can't help but acknowledge and agree with you, because you just proved it on a stage.
"It's all the real truth of the game, and the truth shall set you free."
Again in terms of timing, Diaz believes his two fights with McGregor came because the UFC found a person in McGregor who could revitalise a sport that was looking for stars. And, when watching his rise, Diaz felt he could capitalise on it.
"They put him out there to make a show out of this shit and that's when the sport was getting stagnant anyway," Diaz said. "They got a little loud mouth, confident Irishman that could fight, and kick ass and make a show out of himself and put a target on his head — then you attack that target and you're like haha, a normal person from Stockton came out here and took you the fuck out, and now the show got shifted. Zigged and zagged.
"And now there's a whole fucking show out here, and people just don't know how to be involved in it, probably because they're trying to make themselves out of the wrong show. This is the fight game, this is not a fucking competition. A sport competition. So the more I think about how it's a fight, really like a fight, people attract.. he was spitting it on that big stage."
–
Comments
comments