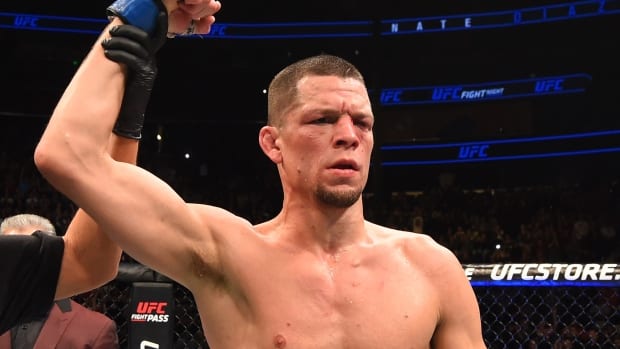 Nate Diaz has heard the criticisms from Leon Edwards to Jorge Masvidal, and thinks the Englishman needs to re-evaluate things.
Edwards has been critical of the reported rematch between Diaz and Masvidal, particularly when he's been after a fight with Masvidal since their backstage altercation in London last year.
"Could have fought number 3, yet chose to fight number 12. Eventually this pussy will fight me, I'm all for money fights but watching two journey men go at it again when it wasn't even competitive is a joke. And this is the "BMF," Edwards wrote on his social media after news of the contest broke.
It seems like Diaz noticed, as the Stockton star took to his own twitter to mock both Edwards and UFC lightweight champion Khabib Nurmagomedov.
"You got fucked up in the back for acting like you were tight," Diaz wrote. "This fight shit is the same everywere, in or out of the cage… don't get punked ever. That goes for kabob also, you guys are in last place now lol."
You got fucked up in the back for acting like you were tight.
This fight shit is the same everywere, in or out of the cage… don't get punked ever.
That goes for kabob also,
you guys are in last place now lol pic.twitter.com/DNuNLBNsj3

— Nathan Diaz (@NateDiaz209) September 8, 2020
–
Comments
comments