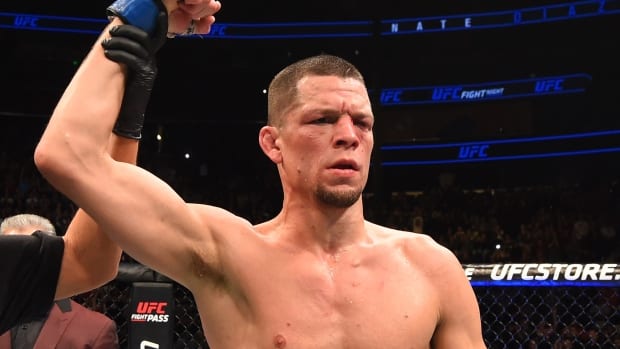 Nate Diaz believes the UFC will not grant his wish of an immediate rematch with Jorge Masvidal, and we could see him on the outskirts of fighting looking in shortly.
Diaz lost his fight to Masvidal tonight in New York after a doctor controversially stopped the contest ahead of the fourth round. Diaz, who famously bleeds frequently, was adamant the decision was incorrect, and the only way to solve the issue was to book an immediate rematch.
Unfortunately, he says, he believes the UFC will look to book Masvidal in some different contests.
"I can already see the fuckery coming," Diaz said. "I know the game works. I give all the rematches and make names for all these people. I believe I was responsible for this whole shit. I brought the president – straight up. I didn't see no president going to no title fights. I believe it's fair.
"Hopefully, they don't throw a bunch of money and clout Jorge's way. They be like, 'Let's do something else.' He's got to fight number 27 again. Because that's the name of the game when it's repetitive. Dana's already talking that shit, you know what I'm saying. I need to get my rematch and come back. Do things right, do things safe, come back 100 percent and win this fight. Seal the real deal."
As usual, Diaz refuses to be cowed by the politics of the fight game, and he said while he would like to compete again shortly, he won't just do what's expected of him.
"Don't play me like you have," Diaz said. "This is where it all starts. I can feel it already. If we're going to do something else, don't be telling me I've got to fight 'Joe Blow' over here. Because I don't even want to hear that. And then saying, 'We offered him fights. We offered him fights.' I ain't trying to hear all that. I plan on trying to get along with them. I hope they plan on getting along back.
"…My plan is to tell them all 'fuck you' and then hopefully we get along soon. Then let's get back at it. That's my plan. You've got to kill me in there. This whole shit happened and I would like for it to happen again. Fuck you, with all due respect… Give me what the fuck I deserve. I believe I deserve a rematch. I've given mine."
Comments
comments