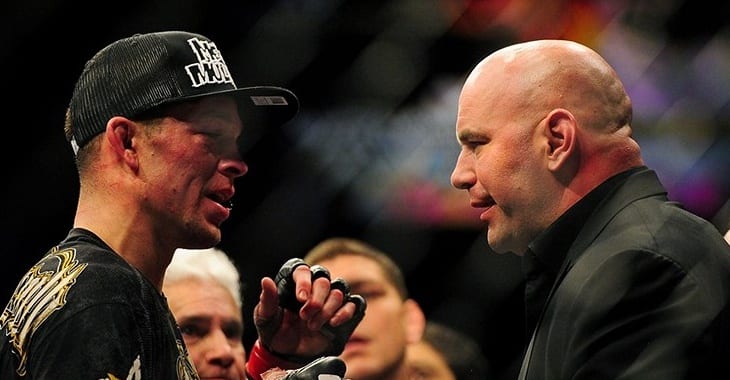 Nate Diaz' return might have been a welcome one for the UFC, but it seems their attitude to it hasn't done much to make the Stockton fighter feel appreciated.
It was only moments after Diaz had made his first appearance with the promotion in two years that it went downhill. As UFC president Dana White introduced a video package to announce Conor McGregor vs. Khabib Nurmagomedov on October 6 at a press conference last week, Diaz walked off stage and launched into a diatribe against the company outside the arena and on social media.
I'm not fighting on that show fuk the @ufc

— Nathan Diaz (@NateDiaz209) August 3, 2018
"They're bad mouthing me saying I turned down all these fights," Diaz said, speaking with TMZ after the presser. "I've never turned down a fight in my life, and then they're backing the other guy when they all got lawsuits, and now I got a lawsuit and Nate's turning down fights? Kiss my ass.
"Fuck the UFC, fuck all this shit. If I feel like it I'll fight. … We'll see if I'm even fighting, we'll see. They better start acting right for a start over-promoting instead of under-promoting. They brought me to this press conference late. They brought me."
While his comments had viewers concerned he as truly uninterested in competing for the promotion, White refused to be drawn on the issue over the weekend, simply telling reporters there was a member of UFC staff who was a big fan of the Diaz brothers and would be the one to try and deal with it.
Judging by Nate Diaz' social media today, it's not been dealt with.
"I can't commit when they actin like shit…." Diaz wrote on his twitter.
I can't commit when they actin like shit….

— Nathan Diaz (@NateDiaz209) August 8, 2018
Diaz is scheduled to fight Dustin Poirier at UFC 230 on November 3 at Madison Square Garden. It would be Diaz' first appearance since UFC 202 in 2016.
Comments
comments