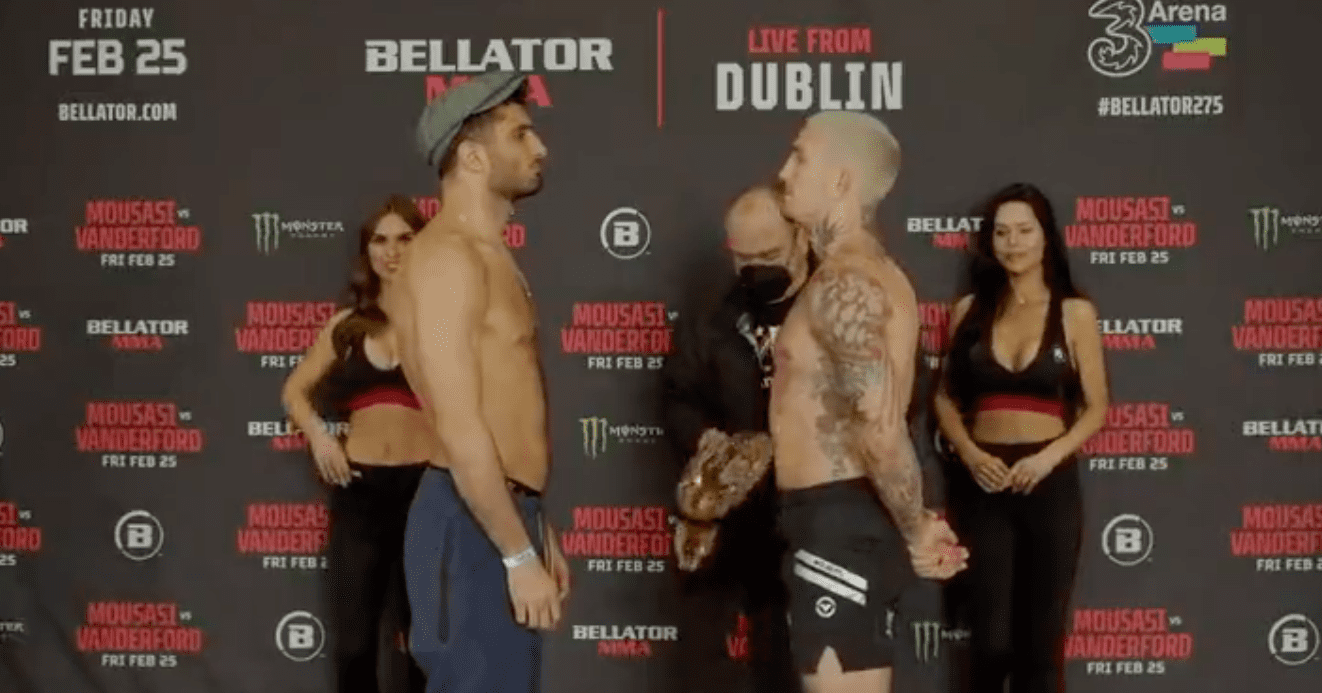 Friday night's world title fight in Dublin is official after Bellator middleweight champion Gegard Mousasi and the man aiming to take his world title, Austin Vanderford, made weight at Thursday morning's official weigh-ins.
Mousasi weighed in at 184.6 pounds for the fight, while Vanderford comes in slightly lighter at 183.7 pounds ahead of the five-round championship bout which caps the promotion's return to the Irish capital. The co-main event featuring Irish fighters Leah McCourt and Sinead Kavanagh is also a go after both came in under the featherweight non-title limit if 146-pounds.
One fighter missed weight, Englishman Jamie Hay, and he will forfeit a percentage of his purse to SBG's Lee Hammond, who is fighting in his second professional contest.
Who will leave @3ArenaDublin as Bellator Middleweight Champion? 🏟@Mousasi_MMA defends his crown against No.1-ranked challenger @AustinV170MMA.

See all the #Bellator275 action live, Friday from 9PM GMT on @BBCThree 🇬🇧 and @VMSportIE 🇮🇪 pic.twitter.com/LRtoQjVyKh

— Bellator Europe (@Bellator_Europe) February 24, 2022
This one has been a long time comin'! 👇@SineadKavanagh0 and @LeahMcCourtMMA will clash at #Bellator275, in a historic night for Irish MMA.

All the action from @3ArenaDublin is live Friday, 9PM GMT on @BBCThree 🇬🇧 and @VMSportIE 🇮🇪 pic.twitter.com/6T7eXo7IHQ

— Bellator Europe (@Bellator_Europe) February 24, 2022
The full weigh-in results are:
Gegard Mousasi (184.6) vs. Austin Vanderford (183.7) – for middleweight title
Sinead Kavanagh (145.6) vs. Leah McCourt (145.8)
Ciaran Clarke (144.8) vs. Abou Tounkara (145.8)
Khasan Magomedsharipov (145.6) vs. Jose Sanchez (145.4)
Jornel Lugo (135.2) vs. Brian Moore (135.4)
Brett Johns (135.6) vs. Khurshed Kakhorov (134.8)
Davy Gallon (155.2) vs. Charlie Leary (155.2)
Danni McCormack (115.2) vs. Stephanie Page (114.9)
Darragh Kelly (155) vs. Junior Morgan (156)
Daniele Scatizzi (154.6) vs. Vladimir Tokov (155.4)
Gokhan Saricam (247.6) vs. Kirill Sidelnikov (264)
Nathan Kelly (145.4) vs. Scott Pedersen (144.8)
Lee Hammond (145.6) vs. Jamie Hay (146.8)*
Comments
comments