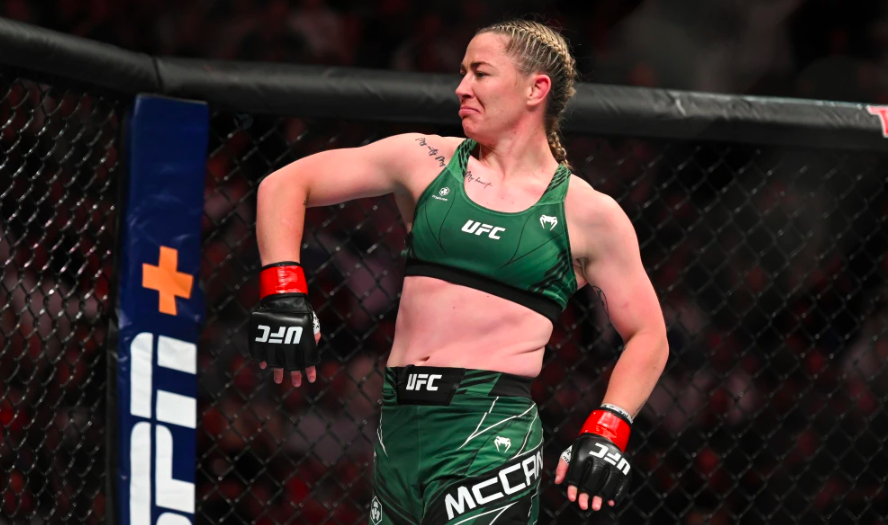 When it comes to Molly McCann, there is no one who would begrudge her a well-deserved break from what has been a hectic several months for the Liverpudlian.
The 32-year-old enjoyed a tremendously successful last 12 months or so, winning three UFC bouts in succession — with two of those punctuated by spectacular spinning elbow shots. Her rise within the ranks of the British MMA ecosystem came in tandem with city-mate Paddy Pimblett, another figure whose star has risen exponentially in recent times.
But with success comes additional pressures. McCann is now close to a household name in the UK, with the anonymity previously taken for granted now a finite resource as fans and sponsors alike clamour for a moment of her attention, and this came to a head after McCann suffered a dispiriting submission defeat last month in Madison Square Garden to Erin Blanchfield.
Soon after, McCann revealed that she plans on taking some time away from mixed martial arts to ground herself — which almost certainly rules her out of competition at the UFC's return to London in March — and speaking to Sky Sports, she opened up on her reasoning to do so.
"In August I hit my ceiling in terms of my mental capacity," she said. "I was exhausted mentally, physically and emotionally. I was getting to grips with being fairly known – but nobody can prepare you for not having a personal life anymore.
"There were four months where every day I was waking up and this horrible heartbeat wasn't leaving me. This dull anxious feeling in my belly and I couldn't stop crying. I was just completely done in and I couldn't cope with how much my life had changed and my mind hadn't been given time to catch up.
"It got to the point where I was out and crying on the phone, yet people were coming over and wanting this, wanting that. I was in such a bad way and I'm crying but people won't stop.
"I was upset because I was thinking 'why are you not reading the situation'. That was hard, but it taught me to slow down, be humble, and be static. I used to go out for tea quite a lot, but I've been out for dinner twice since that fight (at the MSG). I've just stayed home, cooked my own dinners, walked my dogs, and I needed that grounded, normal life and being more of a home bird. I feel like I've reset there."
For now, though, McCann says it is time to just breathe. Life as a professional mixed martial artists brings with it a lot of sacrifice, and she says that she is looking forward to simply enjoying a normal Christmas where she doesn't have to worry about calorie intake or dieting.
"I've not had a Christmas off in about eight or nine years, as I usually have a fight lined up in February. Me, my partner, one of my coaches and his family are all going out to Tenerife for about three weeks.
"I'll probably start training out there again and getting the love for it back. I'll do a pre-season in the heat and just enjoy myself. I'm looking forward to that and hitting the ground running next year."
And no one will say she doesn't deserve some well-earned time off.
Comments
comments