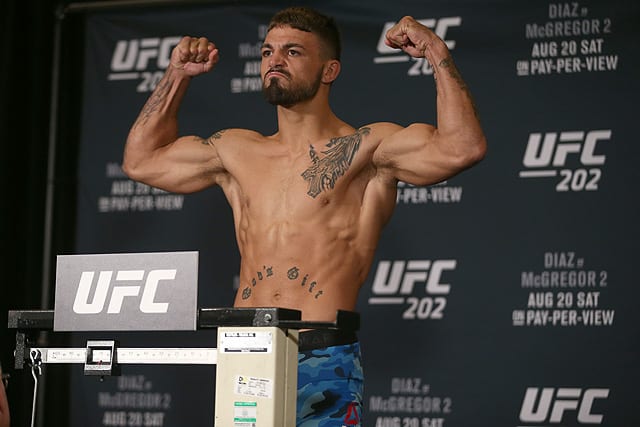 It looks like Cris Cyborg and Angela Magana weren't the only two UFC fighters to get into a physical altercation at the recent fighter's retreat.
According to Mike Perry, he and Jeremy Stephens also got into a little skirmish during a Snoop Dogg concert put on by the promotion for the fighters, after Stephens allegedly got too friendly with Perry's girlfriend.
"I pushed Jeremy Stephens to the ground," Perry said, speaking with BJPenn.com. "We were at the Snoop Dogg concert. Cris 'Cyborg' had punched that one girl in the face on the second day. On the first night, they got between a couple of fighters, but they didn't even touch each other. But then Jeremy Stephens tried to dance up on my girl, and he knew it was my girl. It was at the end of the night. Snoop had already come out, and I had been killing it, dancing with my girl all night. Jeremy Stephens walks up on her, and mid hip-thrust, as he was about to maybe make contact with her body, I pushed that mother fucker hard as I could, double-hand to his chest, and he fell on the ground. He was mad as hell but he didn't do shit.
"He was trying to be a dick, but he's 145 pounds, he doesn't want these problems. Who the fuck is that guy, bro?"
Luckily for the UFC, no real blows were landed, and the scuffle ended quietly. The same cannot be said for Magana and Cyborg, which now looks as if it will end up with Cyborg in court. Today, UFC president Dana White spoke to media members at The Ultimate Fighter 26 regarding Cyborg's assault, stating that "we're looking into that and it's very serious. This is the thing that the district attorney and the police are handling right now. There's way more to that than just what am I thinking about it."
Comments
comments