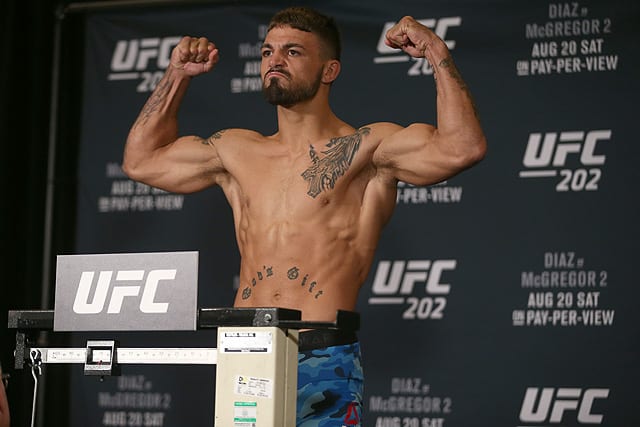 It's not that Mike Perry minds being your friend. It's just that he's not having it before the fight is over.
Such is the case with his UFC Denver fight against former training partner Donald Cerrone. While the pair have only had a few sessions in the gym with each other, there could still be mutual respect and awkwardness about the entire affair, especially with Cerrone's outspoken attitude towards his former coach Mike Winkeljohn.
Instead, Perry has decided to go on the offensive prior to fight night, making various threats and vicious statements about his opponent. Especially today at a media day when a journalist noticed Perry was wearing a t-shirt inspired by Conor McGregor's famous 'Fuck You' suit.
"Fuck you, Cowboy," Perry said. "Fuck Cowboy, that's the meaning behind it. There's no love 'til Sunday, and I don't think he's want to be friends on Sunday. I love him though man, I love Cowboy. He's such an iconic figure in this sport, and it really is an opportunity. Platinum vs. Cowboy, 25 years of fighting. This is huge, but we gotta be 25 years of fighting, right? We gotta be mean and aggressive and talk a little shit.
"But real fans already know. Even if we didn't talk shit, like at the press conference in L.A., I wasn't saying much. I was letting him be comfortable, but over the next couple of days, I'm gonna get a lot more uncomfortable and I'm going to get in his face every chance I get."
Comments
comments