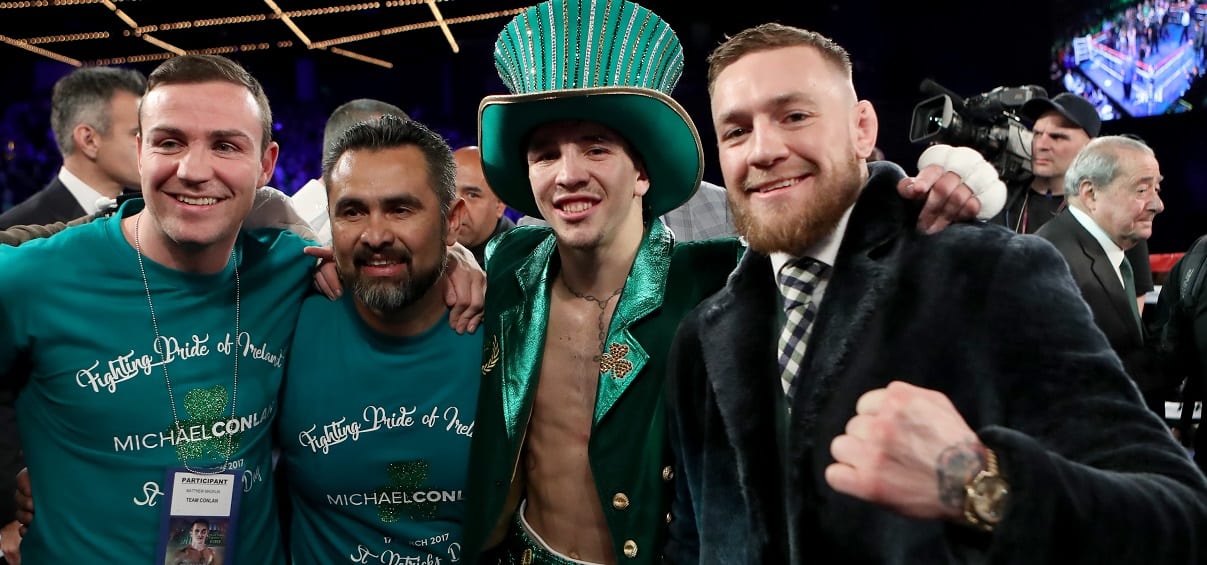 Michael Conlan has earned his second professional boxing victory tonight in Chicago.
The young man from Belfast defeated Aldredo Chanez in the third round after dropping Chanez with multiple shots and the referee called an end to the bout.
And, while McGregor didn't walk out his boxing friend to the ring on this occasion, just as Conlan's first time out (on St. Patrick's Day no less), there was a raucous Irish crowd in attendance supporting their countryman. And, just as in his first time out, Conlan showed the same calmness in the ring as his first time out as a pro, and again he used his speed, accuracy and combinations to beat his opponent to the punch every time.
In truth, Chanez never really looked competitive, and the fight quickly turned into a showcase for Conlan, who continues to improve. Chanez was dropped in the first, and Conlan just kept the pressure on him going into the second and third, until multiple body shots put Chanez to the floor and ended the night.
Conlan surged to prominence after the 2016 Olympics, where a controversial judges decision caused him to an impassioned speech on the corruption in amateur boxing during a live television broadcast. However, instead of garnering him any backlash, most were impressed with the young man's candour, and his professional career has gained a fair bit of interest.
Michael Conlan vs Alfredo Chanez pic.twitter.com/nBINu2zCK4

— Fancy Combat (@FancyCombat) May 27, 2017
Michael Conlan vs Alfredo Chanez Finish pic.twitter.com/R7XLSfmeTS

— Fancy Combat (@FancyCombat) May 27, 2017
Comments
comments