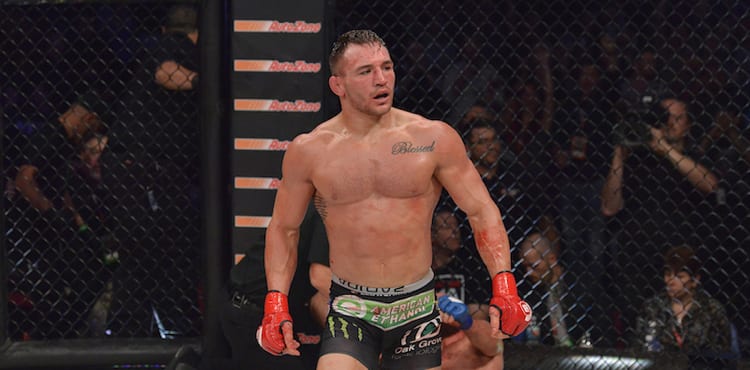 If everything goes his way, Michael Chandler could be fighting for a world title on October 24. If Khabib Nurmagomedov and Justin Gaethje are able to compete, then he'll at least have one of the best seats in the house.
Chandler has been brought into the UFC as a back-up to the much-anticipated lightweight title fight, and will be weighing in on point to make sure he can fight should anything happen to the two booked main eventers. While it's an amazing opportunity, it does also mean Chandler could fight two exceptionally tough men with next to no warning.
Despite that, the former Bellator champion says he's constructed gameplans that will see him succeed against either man.
First? Khabib.
"I think I'm the better wrestler than he is," Chandler said, speaking on an Instagram Live Q&A (H/T MMAJunkie). "That's not to disrespect his wrestling. I think he has shown to be the most dominant wrestler in mixed martial arts, the most dominant wrestler in the world. What he does to guys, he comes forward with reckless abandon, pushes you against the cage, picks you up, put you down and puts you in the Dagestani handcuff. Full mount, side guard, crucifix, half guard or in your guard – the guy is dangerous everywhere. … I will say, he's never, to my knowledge, fought a Division-I, high-level Division 1 wrestler. I don't think he's fought anybody who is a Division-I wrestling All-American. There's just a different breed out there. There's a different breed between a high school wrestler who got into mixed martial arts and stopped doing wrestling many years ago and a guy like myself, who was a Division-I wrestling All-American.
"The game plan against Khabib – he's not going to take me down I don't think. If he takes me down, he's not going to hold me down. I'm going to be able to take him down unlike everybody else who has been up to fight him. As we saw in the Khabib versus Al Iaquinta fight, when he can't take you down he starts to resort to a little bit of sporadicism, a little bit of – he gets off his game. A little bit of seeds of doubt get planted in his head because he knows he doesn't have great striking, he knows his ability to win the fight is predicated on him being able to get in your face, to put you up against the cage and pick you up and hold you down. That's the game plan: Don't get taken down. But that's everybody's game plan. So I'm going to sit here and say I won't get taken down. You guys won't be able to see it until possibly Oct. 24, or somewhere down the line. Because I will be fighting Khabib Nurmagomedov for the title in the near future. Get ready for it."
While Khabib's own tactics are more forward, Gaehtje would presumably be able to mix the striking up more so than the Russian. In Chandler's mind, Gaethje's own ferocity would combine with his own to make an absolute war.
"So the game plan would be, keep my hands up, keep my chin tucked and get into a fist fight with him. I think I can match his cardio, I can go step for step," Chandler said.
"I think I have more power than he does. I think I could string together the wrestling and the grappling and the striking better than he can, and it will be the best fight possibly in UFC history when me and Justin Gaethje step into the cage, and we will step into the cage. I don't know if it's going to be for an interim title, I don't know if it's going to be for a No. 1 contender spot, I don't know if it's just going to be a main event on ESPN at some point down the road. I don't know when it's going to be."
Comments
comments