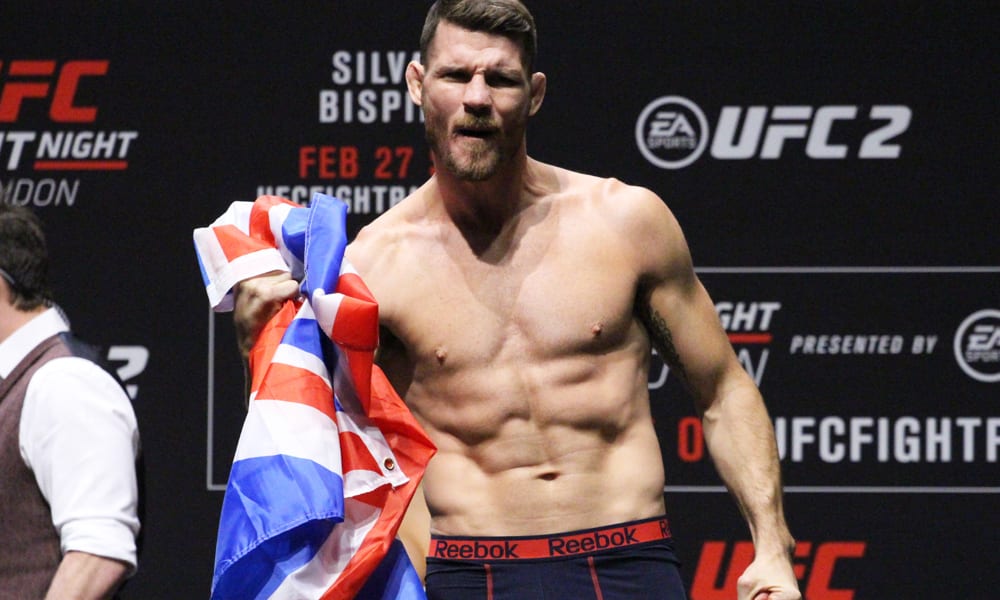 Vitor Belfort's plan to have the final mixed martial arts bout of his career against old rival Michael Bisping in London in March has hit a snag.
Belfort, a former UFC light heavyweight champion, was due to retire last weekend at UFC St. Louis but was ultimately left without an opponent after Uriah Hall was forced to withdraw after suffering difficulties with his weight cut. The Brazilian still intends to retire after one more octagon appearance and immediately after his bout fell apart last weekend, speculation began to take hold that Michael Bisping — himself set to retire with one more fight — would be an ideal opponent in a bout which would bring down a curtain on two glittering careers.
Not so fast, according to Michael Bisping.
Of course, the two have met once before with Belfort picking up the win with a second round knockout. Bisping, who has held a vehement anti-doping stance throughout his career, was upset that Belfort was allowed to compete while receiving testosterone replacement therapy — a practice available to athletes during their 2013 meeting but which has since been outlawed. The headkick knockout ended up detaching Bispng's retina in his right eye, an injury which bothers him to this day.
Speaking on his Believe You Me podcast in March of last year, Bisping let loose with his thoughts on Belfort.
"This is a sign of the p**sy that Vitor Belfort is," Bisping said. "This is the sign of a p**sy that takes f**king steroids his entire career. If you take steroids, you are a f**king p**sy because you're so mentally weak that you feel that you can't go out there and fight these people on a level playing field because you're gonna get your ass kicked. So you worry, and you look, and you look for shortcuts, and you look how you can cheat, and you think, 'Oh I'm gonna take these steroids and they're gonna build my muscle and make me recover better' and all this type of stuff."
Bisping doubled down on those sentiments on a more recent edition of his podcast (as reported by MMAFighting), saying: "I'm not fighting Vitor Belfort in London. I'm not fighting Vitor Belfort in London. I am not fighting Vitor Belfort in London. 100 percent, I'm not fighting him. Zero percent chance.
"I may or may not have one more fight," continued Bisping. "So here's the thing. I don't like Vitor Belfort. People looking at this video are probably saying, 'Look at his eye, he's a f**king mess.' It is part of the reason why I never wanted to do a video podcast before, because my eye is a mess and it was Vitor Belfort that did it and he was roided out of his mind. He's a known drug cheat. I don't like the guy. I find him to be a hypocrite. It's his last fight and he's probably going to juice like crazy again anyway because who gives a f**k. 'Oooh, I failed. So what? Retired. Done. Gone.
"And not just that," said Bisping. "For me, the main reason is I don't like the guy and I just don't want to be associated with him and I know if we were to fight, it would just turn into a typical Michael Bisping performance of trash talk and all this type of thing at the weigh-ins and the press conference and all that stuff. I'd be talking s**t and I don't want to do that.
"This is my – if I fight in London – it's my last ever fight, and I want to handle myself the way I handled myself the majority of the time. I don't want it to be some bitter rivalry with a guy that has caused me lasting disfigurement and that I'm emotionally charged up against. I'd rather go out there, put my best foot forward, enjoy the moment, fight somebody that I respect, fight somebody that's gonna be a challenge but I have a lot of respect for, and do it in a classy way.
"I don't want to be remembered for being a d**k, and I feel that Vitor Belfort would bring out that side of my personality. It's my last ever fight, I want to go there and enjoy it. I want to embrace the moment, I want to live in the moment, I want to be respectful towards my opponent, basically thank all the fans of Great Britain for always supporting my career. . . not lunging and arguing and swearing and going at the guy and acting regrettably because years later I would look back and I would regret that."
Comments
comments