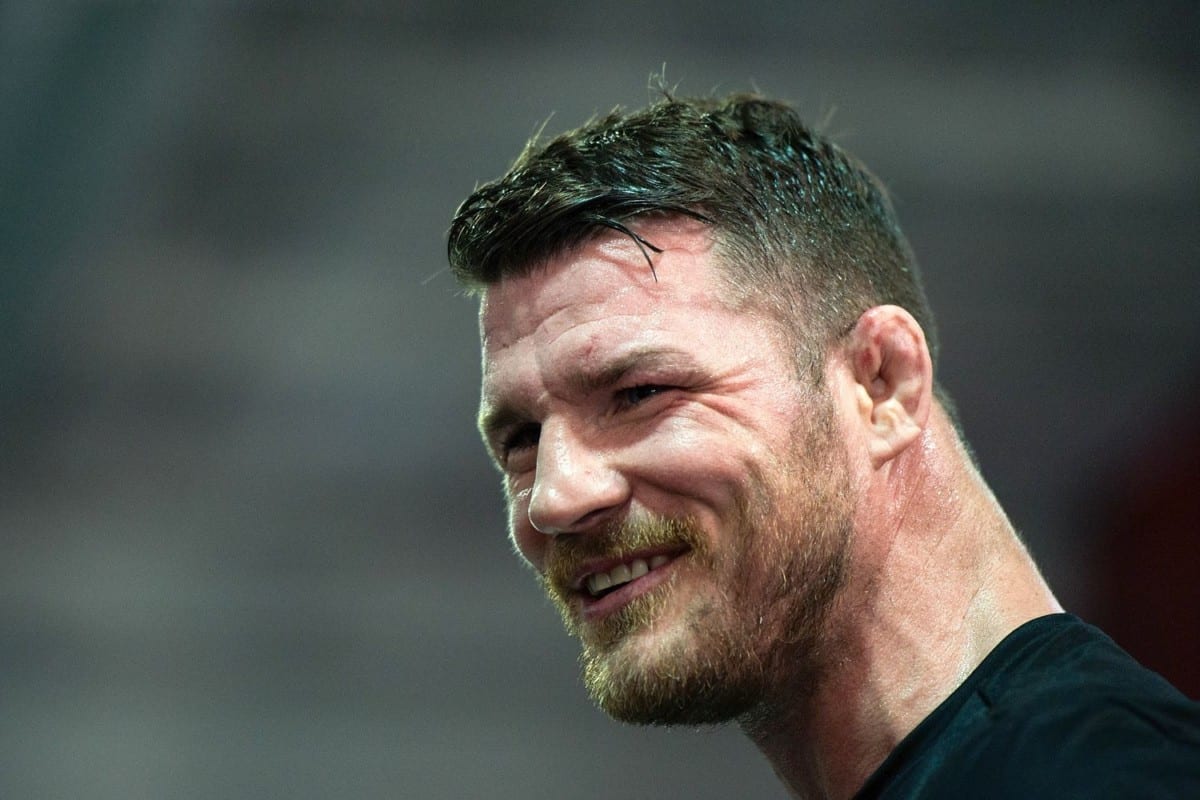 Some people might like it, some people might hate it, but as far as Michael Bisping's concerned; he's earned it.
'It' being, of course, a fight with Georges St-Pierre.
The two are scheduled to face each other for Bisping's middleweight title later this year — in spite of the fact Yoel Romero was rightful number one contender, in spite of the fact Bisping has already received buckets of criticism for not facing off higher ranked opposition and in spite of the fact Georges St-Pierre has never competed at middleweight, and hasn't fought in nearly four years.
As such, it's a decision that has brought about some criticisms.
For Bisping, while he understands the backlash, he believes that an opportunity to face St-Pierre — a man who has historically proven himself as one of the biggest pay-per-view draws in MMA history — and earn himself a final monster pay-day before retirement is too good to pass up.
"I know there are people out there who are criticizing me," Bisping said, on UFC Tonight, Wednesday. "Saying I should fight the number one contender, guys like Yoel Romero, and they're absolutely right. But, put the question right back to you: If you are Yoel Romero, or Luke Rockhold, or Jacare [Souza] or any of these guys. If you were offered a fight with GSP, I know for a fact you're going to take that fight. So why shouldn't I do the same? I deserve this payoff, I deserve this fight, not only for the payday, I want this fight for my legacy.
"This fight was offered to me last October, but the fight didn't come to fruition. Because Georges, I believe, couldn't come to terms with the UFC. So I tried to put this fight out of my mind, started to think about the next contenders in the UFC. Of course, I got a phone call about a week ago saying the fight is back on the table, Georges wants to fight you and it's a big fight. Of course I said yes, Georges St-Pierre is a legendary fighter, he's had one of the best careers, if not the best career, in the history of the sport."
And, again ignoring all the factors listed earlier, Bisping believes the fight has some historical significance. Should Bisping win, he'd be the only man in history to defeat both Anderson Silva and Georges St-Pierre, two of the greatest fighters to ever live. Should St-Pierre win, he'd cement an already astounding resume with a title in a second weight class.
"He chose me because he thinks he can beat me," Bisping said. "I trained with him 11 years ago and he outwrestled me. Now back then, I was a kickboxer from England, I didn't know a double leg from a double decker bus. But every time we trained he'd take me down. He thinks I'm still that guy. He thinks I'm an easy opponent, an easy pick. He picked me to come out of retirement, moving up a weight class, it's almost like he has nothing to lose, but if he moves up a weight class, he beats me, he becomes a legend."
Comments
comments