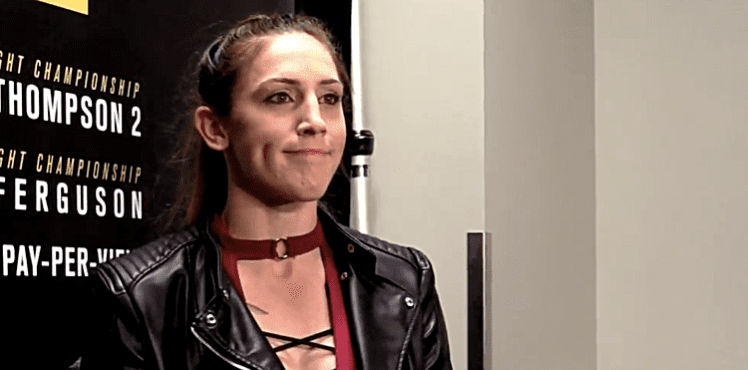 When Megan Anderson had to pull out of her UFC 214 title fight (and UFC debut) against Cris Cyborg, she became the latest name on the list of those criticised about attempting to avoid the Brazilian.
Anderson was forced to withdraw from the contest after citing what she labelled 'personal issues' keeping her from making the contest. As such, the UFC replace her with Tonya Evinger, who will now meet Cyborg at the July 29 event.
While Cyborg has been able to remain on the card, that hasn't stopped outside observers to be critical of Anderson's decision to pull out of the contest, particularly in light of the numerous other opponents who have refused to face Cyborg in the ring.
"I think a lot of people jump on the bandwagon because people have refused to fight Cris before, like Germaine [de Randamie]," Anderson said, speaking on the Sean, Funky, and The Baddest Man podcast. "And Holly has said she doesn't want to fight, and they have their own reasons but that wasn't me. I campaigned for this fight, and I will still campaign for this fight.
"Once I sort my stuff out, I'll be looking for that fight."
Since Anderson's withdrawal, Cyborg has referenced a sparring video involving herself and two-time Olympic boxing champion Claressa Shields, inferring that perhaps it could be the reason for Anderson's sudden withdrawal.
According to Anderson, that's completely opposite from the truth.
"I've seen that and I was even more confident going into that fight. I seen a lot more holes in her game from that footage than I saw positives. I was even more excited for the fight. It was almost like the opposite of what people said and maybe we can rematch that fight when on the card when McGregor comes back."
Me and @criscyborg sparring a small clip ❤️💙 pic.twitter.com/PDYwhOEtDJ

— ClaressaT-rexShields (@Claressashields) June 25, 2017
Still, no matter what people and fans are suggesting, Anderson is remaining stedfast in her decision to not air details from her own personal life — even if it means fans will label her as 'scared' or similar.
"I understand where people are coming from, but honestly I don't owe anyone an explanation," Anderson said. "I have personal stuff. Say if you had personal shit you were dealing with, would you want the whole world pressing you and forcing you to try to tell them? No, you'd probably be like, 'Fuck you guys, this is my shit.'"
Comments
comments