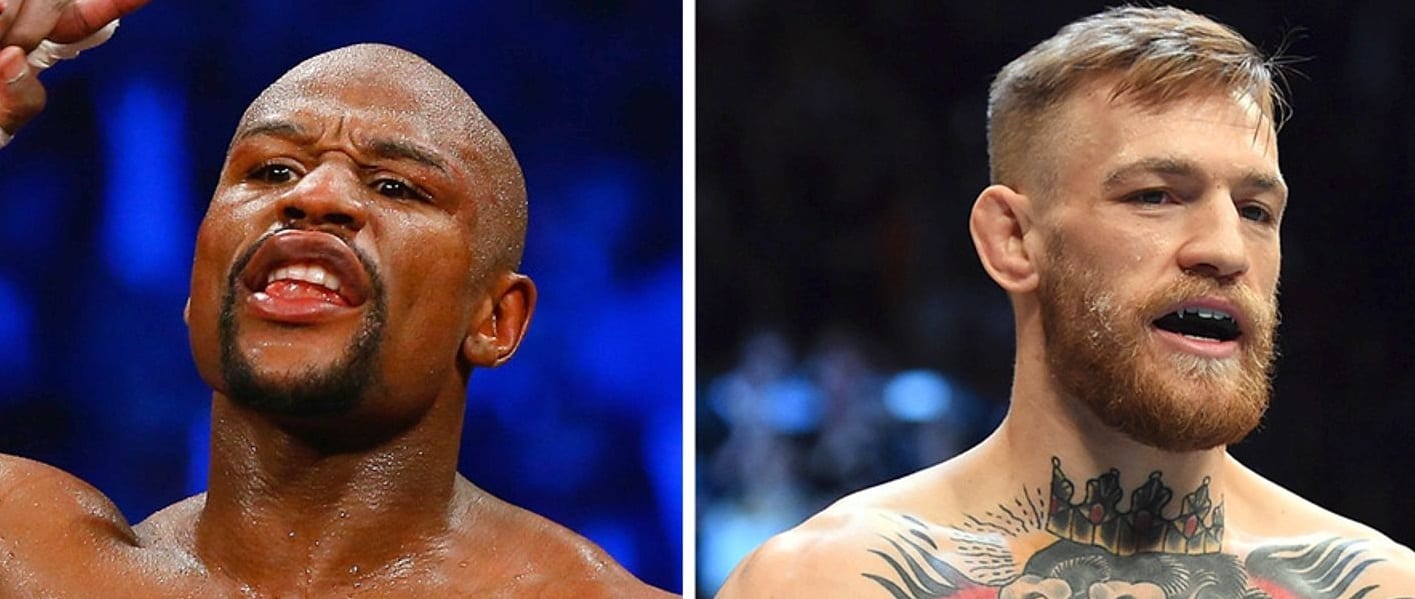 With talk of a potential bout between Conor McGregor and Floyd Mayweather reaching fever pitch, both fighters have taken to social media to ramp up speculation.
Conor McGregor is currently in Las Vegas where it was announced that the fine levied against him by the Nevada Athletic Commission for the fracas at the UFC 202 pre-fight press conference last August will be reviewed but it appears that the first ever simultaneous UFC two-division champion has some other business to attend to while in town.
The resolution of that matter will allow McGregor to apply for a boxing license in Nevada — the state where Floyd Mayweather's last thirteen boxing matches have occurred — to add to the license that he has already successfully applied for in California. For a match between the two to be signed into reality, this is the first of several hurdles that must be overcome.
There interest in a bout between the two remains very real. Speaking last month at a Q&A in Manchester, McGregor outlined the moves that are currently being made to make what would be an historic clash a reality.
"I have my eyes on one thing right now, and that's Floyd Mayweather", McGregor said. "That fight is more than just being explored. There's a lot of steps, but it's the fight to make. It's the fight I want. I believe this is the first billion fight, so people have to pay for a billion dollar fight. I believe it will happen at the end of this year or at the beginning of next year."
Upon his arrival in the fight capital of the world, McGregor wasted little time in throwing down proverbial gauntlet to Mayweather.
I am in Las Vegas. Floyd has retired on my arrival. pic.twitter.com/z9EcxBJaDr

— Conor McGregor (@TheNotoriousMMA) February 15, 2017
Floyd Mayweather, who retired from boxing following his 49th professional victory in 2015 against Andre Berto, responded in kind on Twitter is what could be seen as an open declaration of intent for his desire to make the fight happen. Mayweather previously 'retired' from the sport following his victory against Ricky Hatton in December 2007.
The 49-0 boxer has gone on the record as saying that the only fight that will tempt him out of retirement once again is the McGregor fight.
— Floyd Mayweather (@FloydMayweather) February 15, 2017
Despite UFC president Dana White's assertion that nothing can be agreed upon without his consent there remains a clause in The Ali Act (which McGregor, as a licensed boxer, is now subject to) which could provide the necessary leeway to reach a deal. Nevada State Athletic Commission director Anthony Marnell told ESPN's Brett Okamoto that there have been "real discussions" with the "real players involved".
Okamoto also reported that the Mayweather camps said they are "getting very, very close" to agreeing to the bout.
White has made an informal offer of $25 million apiece to promote the fight under the UFC banner, though that offer was apparently not taken seriously by either camp. McGregor said in Manchester last month that he hopes the fight takes place with the participation of the UFC, rather than outside of their control.
Conor McGregor has called his own shots since he arrived in the UFC back in 2009. He predicted with an uncanny sense of reality the way he would run through the UFC featherweight division and then move up to win gold in the lightweight division.
With his heart and mind so seemingly focused on getting into the ring with Floyd Mayweather, who would doubt him this time around? If there's one person in the fight game who can make this clash happen it is Conor McGregor and it will be fascinating to watch him do it.
Comments
comments