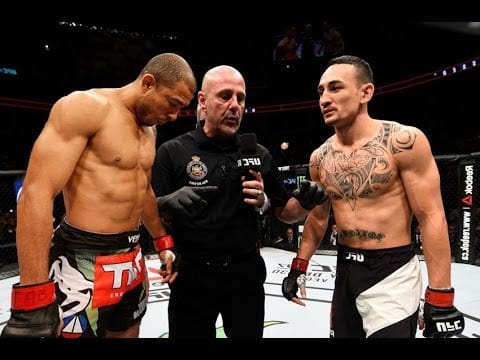 Jose Aldo is about to get his chance at becoming a three time UFC featherweight champion.
Earlier this week, news broke that Frankie Edgar was forced with withdraw from his UFC 218 main event slot against 145-pound champion Max Holloway. Unwilling to postpone the contest, the UFC searched for a replacement in order to keep Holloway on the card, and look set to announce the former champion Aldo. MMAFighting first reported the news.
It's a chance at redemption for the Brazilian. Aldo and Holloway met earlier this year at UFC 212 in a title unification bout that Holloway ended up winning via TKO in the third round. Since then, both men have been out of competition, although many speculated the duo would end up meeting again eventually.
It shouldn't be much of an adjustment for the Brazilian. Aldo was originally scheduled to face Ricardo Lamas at UFC on FOX 26, December 16. It's unknown if the UFC will find a replacement for Lamas at that event. Interestingly, however, the Lamas contest would have been a three round contest
Comments
comments