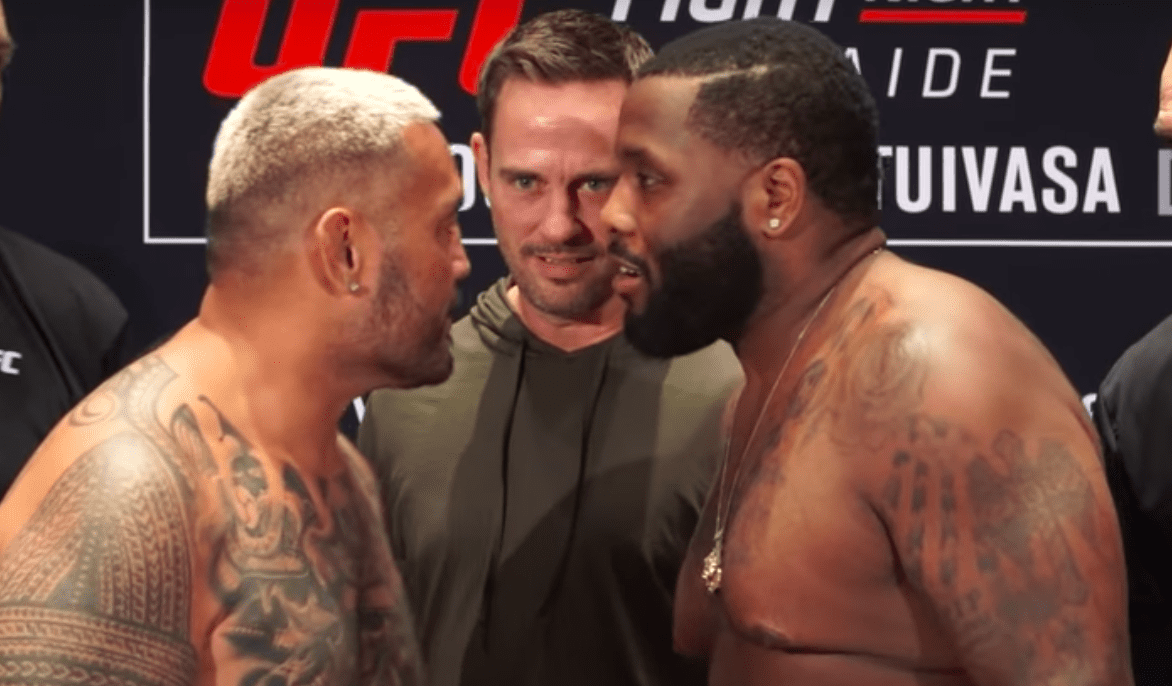 There is little love lost between Mark Hunt and Justin Willis, it would seem.
The two heavyweights face each other Saturday at the UFC's latest fight card down under but it appeared as if both Hunt and Willis don't necessarily want to wait until fight time to throw down.
Hunt, who will almost certainly appear under the UFC banner for the last time this weekend, and Willis had a tense staredown after both weighing in but when the two disappeared behind the curtain it appears that the two almost came to blows.
The incident was captured by Australian outlet Submission Radio.
Some kind of incident just happened backstage at the weigh-in face-offs after Mark Hunt and Justin Willis had a heated face off.

Security sprung to action and Tai Tuivasa could be heard yelling: "Who the fuck do you think you are?!", "I'll fucken smash yous both!". pic.twitter.com/dG8WkiGn6z

— Submission Radio (@SubmissionRadio) November 30, 2018
Exactly what happened backstage remains open to interpretation but Tai Tuivasa, who faces Junior Dos Santos on the same card, could be heard shouting, 'I'll fuckin' smash both of you!'
Tyson Pedro, another Australian fighter, later described Willis' behaviour as "disrespectful".
"It's disrespectful," he said via MMAFighting. "I know you've got pump up yourself, but it's like me with 'Shogun'—'Shogun' is a legend and Mark is a legend, they're from the same time. And I don't know if [Willis] knows he's in Australia and that there's no rules outside of where we are."
"I think he's trying to pump himself up more than he's trying to pump Mark up, and you don't want a pumped up Mark. If anything that's the worst thing you can do.
"I've gone back and they're trying to stop the fight, but you can't disrespect our lead horse. We're not promoting fighting outside of the Octagon, but don't go and say that to our lead horse and then come out and say something about our team," said Pedro.
"I'm pretty sure he went at Mark and Tai was just there," he added. "Don't go at our team; we're all here and we're in Australia so it's probably not a good idea."
Comments
comments