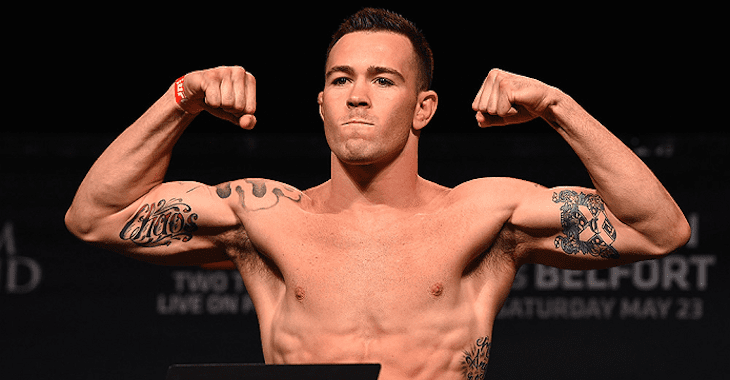 When it was announced that 'The Nigerian Nightmare' Kamaru Usman was to be the recipient of the next title shot in the UFC welterweight division, it was almost like a countdown had begun to hear Colby Covington's reaction.
The outspoken welterweight, and former divisional interim champion, had long been thought by the MMA media groupthink as being next in line for a shot at Woodley's 170-pound belt. He was deemed medically unable to compete when the UFC tried to arrange the bout in September, while Usman shot up the rankings in November with a convincing win against former UFC champion Rafael Dos Anjos to add to his May victory over former title challenger Demian Maia.
Interestingly though, Covington's two most recent wins have also come against Maia and Dos Anjos. Nonetheless, the UFC opted to give Usman the title opportunity — and Colby Covington is NOT a happy man.
"They made promises that I was going to fight Tyron Woodley in November at Madison Square Garden," Covington said on Ariel Helwani's MMA Show via ESPN. "They made promises I was going to fight him January in California. Now all of a sudden I'm getting passed up for a guy behind me that has beaten my sloppy seconds?"
"It makes no sense to me. They are shitting on me; they are shitting on their fans. They are dulling their product."
Furthermore, Covington declares that his rivalry with Woodley would have been a bigger pay-per-view commodity for the company.
"This is the blockbuster main event at welterweight," Covington said. "This has been brewing for such a long time, since I first trained at ATT and was beating his ass. He knows that deep down. He can lie to the media, he can lie to the people. He can't lie to himself or his coaches."
Doubling down on his statements, Covington said that he will not fight again unless it is for a world title, even if that means leaving the UFC.
"I don't need the UFC, the UFC needs me," Covington said. "Unless they are calling me for a title shot, I have nothing to say for them. If they want to release me, release me. I'm going to wait to get what I deserved. That's a title fight."
Comments
comments