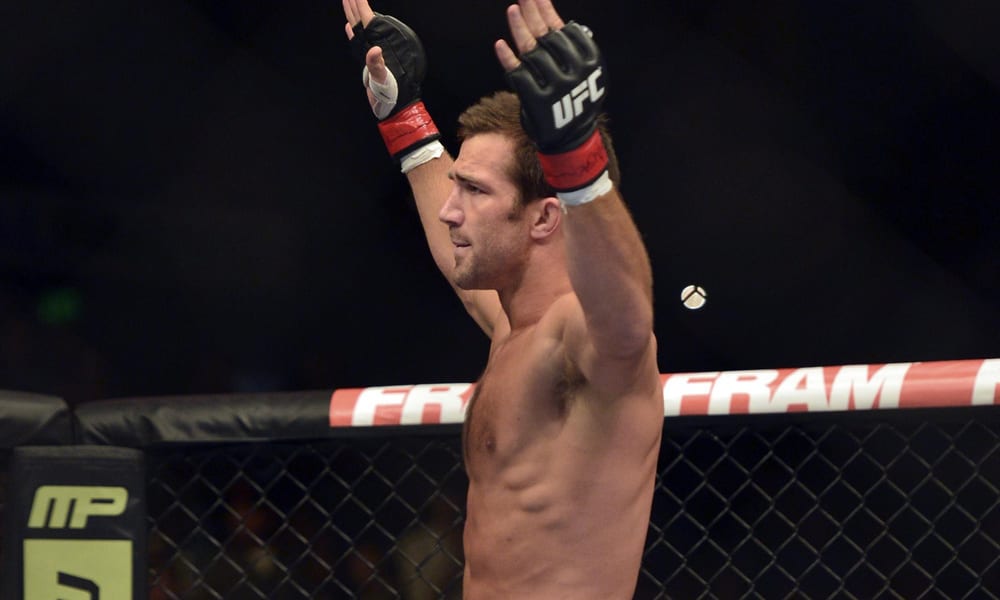 Former UFC middleweight champion Luke Rockhold appears set to make his comeback to the cage in the coming months — and it will likely come against an opponent Rockhold describes as a "f*cking idiot".
Sean Strickland, shortly after defeating Uriah Hall by five-round decision last weekend, told the media after the bout that he would "love" to kill somebody in the cage in comments which generated headlines across the world and Rockhold has confirmed to Submission Radio that a deal is in the works for a fight between the two.
"This kid Sean has been offered. So, I mean, they're trying to do something. I haven't heard any dates or anything like that, but that is something they're interested in. And yeah, let's do it. I mean, he's not the most — he took a ranking, he did his thing, but he doesn't help himself in anyway, shape or form with his style and his performance on mics.
"Did that guy really just say that? And then like my manager told me that that's his thing, that he says that every time. I'm like, what a f*cking idiot."
Rockhold is currently in the midst of a two-fight losing skid having been beaten by Jan Blachowicz in the light heavyweight division in July 2019, and before that to Yoel Romero by third-round knockout in February 2018. Indeed, Rockhold has fought just three times since losing the UFC middleweight championship to Michael Bisping in the summer of 2016.
Strickland, who now sports a record of 24-3 and is ranked 8th at middleweight, has been linked to a fight with Rockhold in the past — but as he explained, he wasn't interested in the past.
"They offered me Sean actually a while back, a while back," Rockhold said. "And I just wasn't interested cause he's just a fucking nobody. It wasn't the fight I wanted. It didn't make any sense, no one knew of him, and I didn't give two fucks about him. And now it's like Dana's trying to piss me off with it.
"And now he's obviously been out there, he beat Uriah Hall, he looked decent and he took a ranking. So, there's something to work with I guess now. … They offered it to Uriah. Uriah chose Strickland instead of me. They offered the Chimaev fight. Obviously that didn't come to be. I liked that too, that was exciting. That kind of got me up. I don't know, this is what we have, and there were some other fights they kind of dicked around with. So, this is seemingly gonna happen. We just gotta get a good fight date and something that's f*cking sexy and timely.
"I've seen Sean at the gym, he's come through RVCA a couple of times," he added. "So, I've seen him in there, and he's got a very annoying style. And if you let him get there, he can get there. And he's average all around, but he's confident and he has a very weird little awkward style. He comes forward and he can be effective. And Uriah Hall showed, showed no balls and didn't execute, didn't throw any kicks, really. Just stood there and gave him every opportunity to win that fight. And he did."
Comments
comments