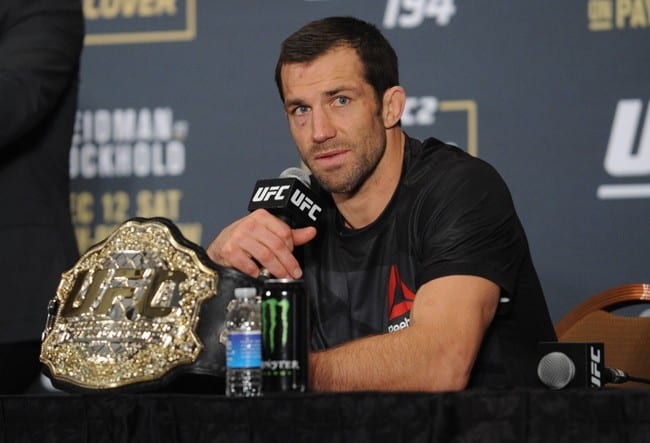 When it was announced that Luke Rockhold would be the man facing Robert Whittaker in the wake of Georges St-Pierre's vacating the middleweight title, Kelvin Gastelum wasn't happy. 
Having just defeated former champion Michael Bisping, Gastelum felt his activity in 2017 should have put him ahead of the other men in the 185-pound division's top ten. Taking to Twitter, Gastelum presented two 'options' that he perceived Whittaker had to choose from.
A: Fought only once in 18 months against someone who wasnt even competing in the ufc a year ago.

B: Fought 4 times in 12 months, 3 of them in the main event in the last 8 months against former champions ranked in top 10 of the division. *Doesn't have a modeling career. 🤷‍♂️

— #OnAmission4Gold (@KelvinGastelum) December 6, 2017
Well, it's safe to say that Luke Rockhold doesn't share Gastelum's assessment of the landscape.
Speaking in Australia to media to promote the upcoming UFC 221 in Perth, Rockhold was asked his thoughts on Gastelum's apparent irritation with the situation, and his belief that it should be he and not Rockhold fighting for gold.
"That little midget should be fighting for the title?" Rockhold said, speaking with The Daily Telegraph. "How? How in the world does he think that? The kid hasn't accomplished anything yet. For his last win, he beat up Michael Bisping, who was coming off a loss only two weeks earlier. And before that, he got absolutely smoked by Chris Weidman.
"So c'mon kid, wake up and smell the fucking daisies. I've beaten everyone. And if we ever fight, I'll put you away real quick."
Rockhold was last seen in the Octagon defeating David Branch back in September. Prior to that, his last fight was in June of 2016, where he lost the world title to Michael Bisping. For Gastelum in the same time frame, he has fought five times, winning three, losing one, and one being ruled a no contest.
Comments
comments