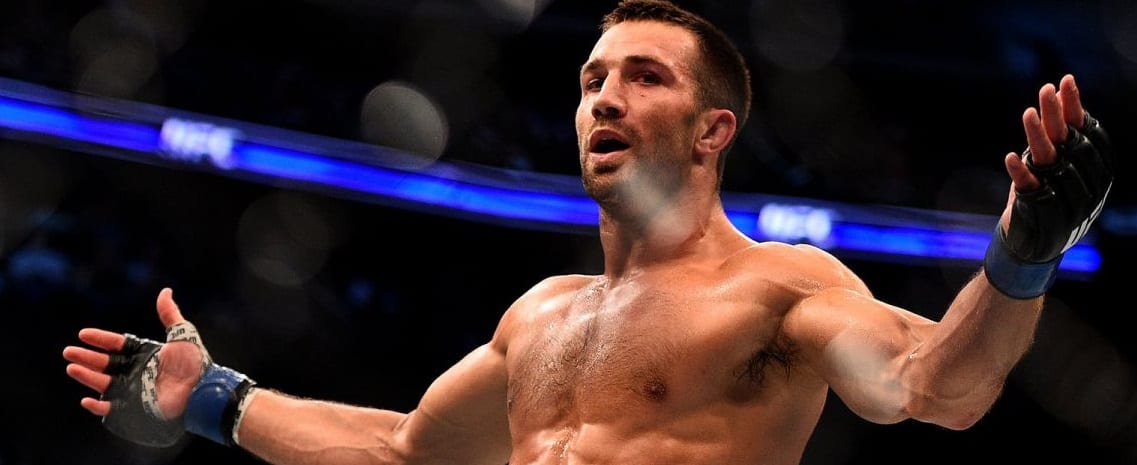 The backlash against Georges St-Pierre's title shot at Michael Bisping's middleweight championship belt continues.
With news that St-Pierre would only be able to fight in October of this year, plenty of middleweight contenders are growing increasingly infuriated with the division being on hold. This time, it's Luke Rockhold taking his concerns public, stating that he won't fight unless he sees evidence that the division is moving forward — and he's calling for the other UFC 185-pounders to do the same.
"If they're not putting an interim title on the line, or if they're not making Bisping fight a contender, I'm not fighting anybody," Rockhold said on MMAFighting's The MMA Hour. "And so should the rest of the division too. What's the point? Without me, Mousasi, Yoel, and Whittaker — I think everyone should just stand their ground, and say fuck you. Put a title on the line or else, fuck, you don't even have a division.
"I think everyone is already on strike, aren't they? We're all waiting on a title. Whittaker's down. I've voiced my opinion, and I think Mousasi should stand his ground too. I mean, without us you have no fucking division. Make something happen."
It all just adds fuel to the fire that the UFC should look into scrapping the Bisping/St-Pierre contest and instead find alternative fights to host. As more and more fighters voice their displeasure, and fans seemingly unimpressed with St-Pierre's return time frame, it appears as if the fight only benefits the two involved.
According to Rockhold, it shouldn't be allowed to continue.
"The ball's definitely in [the UFC's] court, and I think they know that," Rockhold said. "I think everyone's not very happy in the situation we're in right now. I'm sure Yoel's payment isn't going to hold him off too long. … I think everyone needs to step up and make something happen. The middleweights need to step up and hold their ground."
—
Comments
comments