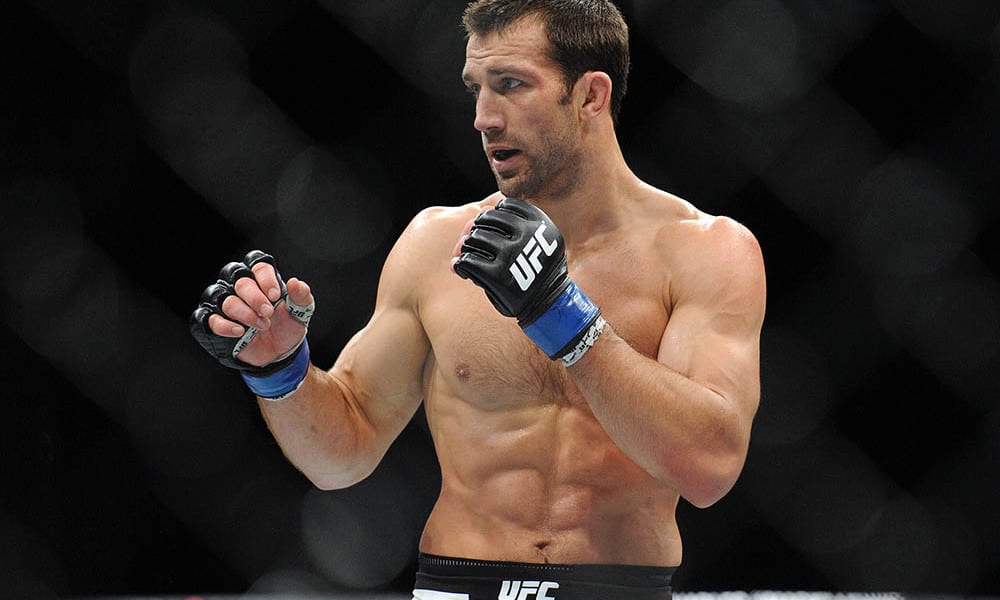 Former UFC middleweight champion Luke Rockhold is tired of sitting on the sidelines.
The 36-year old has been absent from the cage since a July 2019 knockout defeat to Jan Blachowicz in a light heavyweight bout which served as the Pole's stepping stone to the 205-pound world title he currently holds — and Rockhold says he wants an exciting opponent or nothing.
Rockhold was linked to a middleweight title bout with Khamzat Chimaev but the Chechen-born Swede is instead focusing his efforts on welterweight ahead of a proposed fight with Li Jingliang, leaving Rockhold without a dance-parter to show off what he described as his "sharpened" skills.
"I'm 36 years old, my body hurts a little bit here and there for sure. It's not like it used to be," Rockhold said via MMA Fighting. "Athletically, technically and mentally, I feel f*ckin' sharp, I feel ready and I've been able to be more present. Sometimes throughout the career, you allow the pressure and different things to kind of weigh on you, and right now I just feel so clearheaded and in a good space where I'm ready to come back, assert myself, and do what I know I can do.
"Give me the f*ckin' dance partner to prove that, or not. Whatever. I don't care. I'm going to go there and I'm going to do what I do. Let me prove myself right, and let people try to prove me f*ckin' wrong. But someone's gotta step up and f*ckin' do it.
"I was looking at '85ers, top-10 ranked guys, I wanted solid guys," Rockhold added. "Uriah Hall went the other way and chose a different guy. I know my management talked with Kevin Holland and he actually reached out to me. He's the only guy that reached out to me personally and was like, 'Who said I was ducking?' And I was like, 'I don't know, the managers talked and it didn't sound like it was the direction they wanted to go.' He was like, 'No, no, no, let me handle my business and I'll step up and do my thing.' That guy, respect to him, he's the man. He's the only guy, I'm assuming, that wanted something that's interesting, so we'll see if that comes later.
"I know Jack Hermansson didn't want it. I know a lot of guys in the division, the top-ranked [guys] didn't want it."
View this post on Instagram
The potential Chimaev fight, though, was something Rockhold says he was interested in.
"They threw Chimaev at me just out of nowhere because I didn't see it coming," Rockhold says. "I didn't really think about it and I was like, 'F*ck. I'm a little interested in this.' The kid has been talking up a game, claiming he can beat anybody and everybody at any time and I'd like to take the hype. I heard good things from the inside, too. I heard the kid is real tough. So let's see. Let's see what it's all about, I love that, [I love] taking [hype], or he could prove himself right.
"They offered me a date, offered me Aug. 7 and I was a little pressed for time and I was like, 'Okay, let's f*ckin' do it,' and then they wanted to push it back to a main event on Aug. 28 and then I got really excited. I was like, 'F*ck, let's go, 100 percent.' I thought it was done because they kept giving me multiple dates, and then he just went silent and I guess he wants to stay at 170, something like that."
But Rockhold has made clear that he will only take on a challenge which he says excites him.
"But I ain't gonna take anything that doesn't excite me. I'm not just gonna step up and fight somebody that doesn't excite me or doesn't excite my fans. There's no point. I've been doing that. I've been a Strikeforce champ, I've been UFC world champ, I don't need to come back and fight some bum that doesn't f*cking get me excited. I'd rather just not come back. If you want me to fight, give me something that excites me. Give me something that excites my fans, my people, and all of us. Otherwise, f*ck off and let me go because I ain't gonna do that.
"I just want someone that's fun," said Rockhold. "If it's someone outside the top 10, it's got to be f*ckin' something that gives me some interest, somebody who's got f*ckin' personality, some hype, someone that gets me out of f*ckin' bed. I'm not gonna wake up for some f*ckin' chump that doesn't do anything for me, get out of bed and work my ass off."
Comments
comments