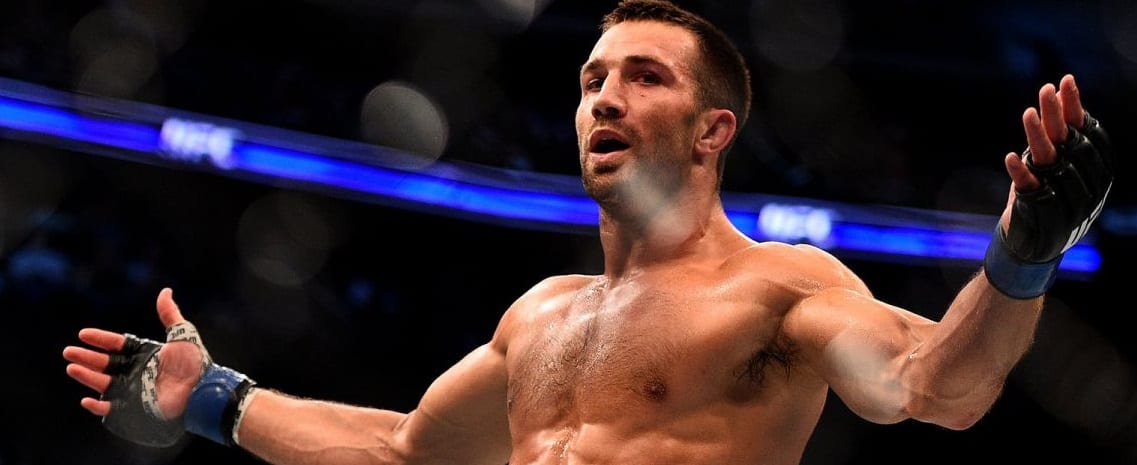 The identity of Michael Bisping's final mixed martial arts opponent is slowly developing into one of 2018's more engaging stories.
The former UFC middleweight champion and, in all likelihood future hall of famer, has gone on the record as saying that the next time he walks to the Octagon will be the final time. A range of potential opponents have been linked with Bisping, from Jorge Masvidal to Vitor Belfort, but whispers are emerging that the most likely option will be a rubber match with former for Luke Rockhold.
The two former champions have a storied history. In their first meeting it was Rockhold who took home the bragging rights, becoming the first person to ever submit Bisping in professional competition in late 2014 but Bisping's revenge for that defeat came with the highest stakes possible: a gold belt on the line.
In what was regarded as one of the year's biggest upsets, late notice replacement Bisping earned a first round TKO of then-champ Rockhold at UFC 199 a couple of summers ago, beginning a title reign for the Brit which would continue until last November when Bisping suffered his second submission loss to Georges St-Pierre in New York City.
So to put it simply, Michael Bisping and Luke Rockhold have history. As the whispers linking a third fight between the two become stronger Luke Rockhold wants to up the ante.
Speaking with Damon Martin of FloCombat, Rockhold says that if he loses for a second time to Bisping, it won't just be Bisping who hangs up his gloves.
"I'll put it on this: If Bisping beats me in this fight, I'll be the motherf*cker who retires," Rockhold said. "If Bisping beats me in this fight, this will be my retirement fight.
"I'd love to shut his mouth. If you're going to run your mouth that much, if you're a man, back it up. We will soon see. He's opened his mouth, he said a lot of things and now he's been backtracking a bit. Put your money where your mouth is. You want to f*cking run your mouth and say I was an easy fight, you say you can beat me up any time. Any f*cking time.
"Step in the cage and prove it. Let's finish it."
Rockhold suffered defeat in his last bout, after being stopped by third round strikes from current #1 middleweight contender Yoel Romero in Australia. Bisping lost two bouts in the space of three weeks in November, to Georges St-Pierre and Kelvin Gastelum. Unsurprisingly Rockhold isn't taking kindly to Bisping's taunts, especially considering the manner of Bisping's two most recent defeats.
"Motherf*cker, you got knocked out two times in a row by 170 pounders," Rockhold said. "Don't talk about my knockout to Yoel f*cking Romero. He's been knocked out more than me if you want to get down to it.
"This is your retirement fight, [so] let's go out on the biggest stage possible. That's Las Vegas. That's International Fight Week. Back it up. Put your money where your mouth is. Put your balls on the table, 'cause I'm ready to go."
Comments
comments