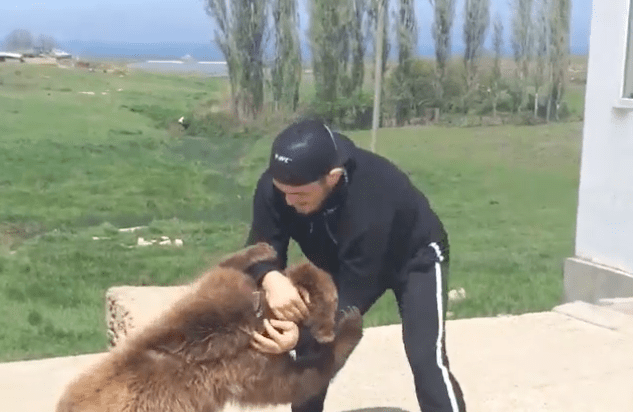 People for the Ethical Treatment of Animals (PETA) have called on the UFC to act regarding footage online which shows Khabib Nurmagomedov grappling with captive bears.
Several videos of the above have resurfaced following his decisive UFC 242 victory against Dustin Poirier in Abu Dhabi last weekend, prompting the animal rights group to release a statement in which they ask the UFC to take measures against the Russian fighter.
Three videos — one of which featured the fighter as a child — showing Nurmagomedov wrestling with a bear appeared on Instagram in 2014 and 2019 in which he can be seen grappling with bears, pushing and pulling the muzzled creatures while they are tethered to the ground with chains.
View this post on Instagram

met my friend from childhood😂 and my best sparing partner ever, and now my hunting belt started.
"PETA encourages the UFC to evaluate its relationship with Mr. Nurmagomedov until he shows a clear change in attitude and a commitment to showing animals the respect that they deserve," Elisa Allen, PETA UK Director, said to Business Insider.
"Wrestling with a chained bear is loathsome behaviour that shows an utter lack of respect for and consideration of who these animals are. In the wild, bears roam across vast territories, foraging, swimming, digging in the dirt, climbing trees, searching for a mate, and expressing other essential, natural types of behaviour.
"Those used in Russia for 'boxing,' 'dancing,' or other archaic forms of entertainment are typically torn from their mothers as cubs, chained, caged, muzzled, beaten, and deprived of everything that's meaningful to them.
"PETA urges Mr. Nurmagomedov to stick to wrestling with willing human opponents," they concluded.
Stories of  Nurmagomedov wrestling with bears have circulated in the MMA landscape since he made his debut with the UFC, reportedly beginning when he was around 9 years old.
Numerous petitions can be found online to require the bear to be placed into a sanctuary and for Nurmagomedov to be released from the UFC for perceived animal rights violations.
Comments
comments