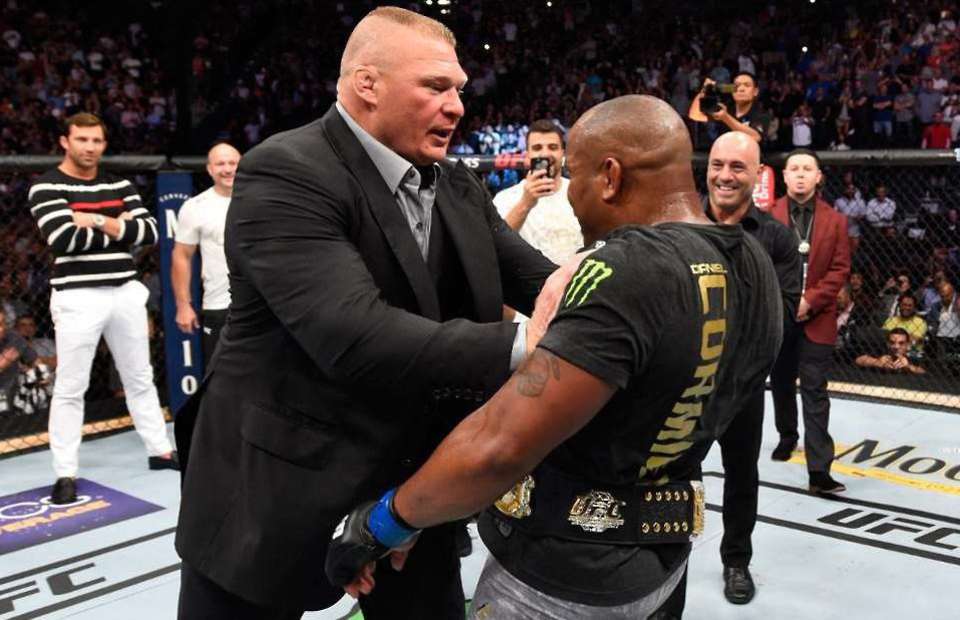 It seems that the stars have finally aligned.
Brock Lesnar, now bequeathed of the WWE's Universal title following last weekend's WrestleMania event in New Jersey, appears certain to be announced — perhaps as soon as this week — as the next challenger to Daniel Cormier's UFC heavyweight crown. It is a fight which has been mooted for a year, with Lesnar even confronting Cormier in the cage following his successful title bout with Stipe Miocic last summer and, as Cormier says, just announce the damn fight already.
"It's the fight I want," Cormier said to TMZ. "I think everyone wants to fight Brock. We all want to fight Brock."
Lesnar, now 41-years-old, has fought just once in the UFC in the since 2011 — a no-contest (originally a win) against Mark Hunt at UFC 200 but even amid that inactivity (not to mention a USADA ban) Lesnar remains one of the biggest draws in mixed martial arts.
Cormier, a noted professional wrestling fan, watched Lesnar's defeat to Seth Rollins last weekend and his reaction online was a simple one.
Ha, Brock got beat up

— Daniel Cormier (@dc_mma) April 8, 2019
"It's the fight," Cormier concluded. "That's the fight that needs to happen. You know, he's a former UFC champ, All-American in college. This guy's very, very deserving of a fight, and he's gonna get it. Hopefully.
"Dana get on the phone right now. If you haven't called him yet, do it today!! What are you waiting for?! Get this sh*t on the books. Let's get this on the books!"
And asked if he has one message for his potential future opponent, Cormier replied simply": "Lick those wounds 'cause I got some brand new ones waiting for ya."
Comments
comments