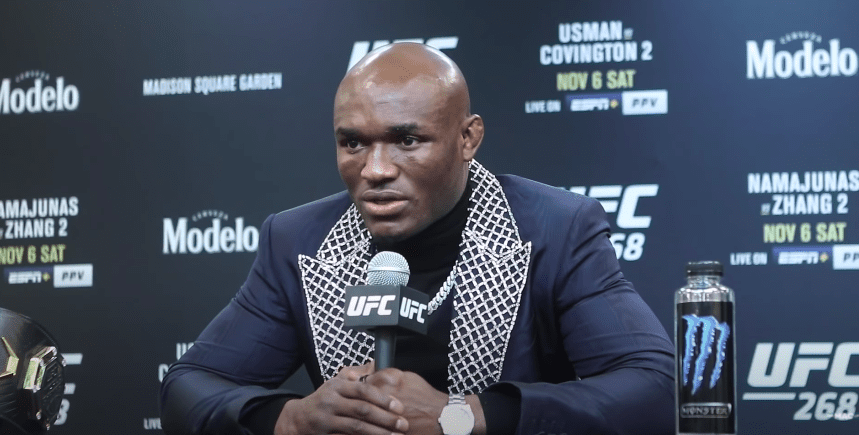 It certainly wasn't easy but Kamaru Usman underscored his status as the welterweight division's clear standout fighter with his second win against Colby Covington at the UFC's return to Madison Square Garden late on Saturday night.
The champion, though, didn't quite have it all his own way. After a strong start in the first two rounds, including dropping Covington to the canvas twice in the second, 'Chaos' came back strong in the latter stages of the fight, even appearing to wobble Usman towards the end of the third.
But upon the final bell, the two fighters shared a moment of respect — and afterwards Usman paid tribute to his rival, saying that having Covington snapping at his toes brought out the best in him.
"[His comeback] didn't surprise me," said Usman in the post-fight presser. "He's a great competitor. I know this. We both knew that. It didn't surprise me. That's why I had to stay poised, just listen to my coaches cause I really wanted to get him out of there. Once I start feeling like a giant in there, I'm like a tank and I want to just get him out of there. But I understand in this game it's about using your mental cause we're both physically adequate and we're prepared. I stayed composed and got the job done.
"This guy's tough as nails. This guy's very, very tough. Let's be honest, [Muhammad] Ali needed a [Joe] Frazier. All these guys, you can be the great one but there's always going to be that one guy that's going to be able to push you and he is that guy.
"As much of him outside the octagon that most people don't like, myself included, you have to respect him as a competitor."
Comments
comments