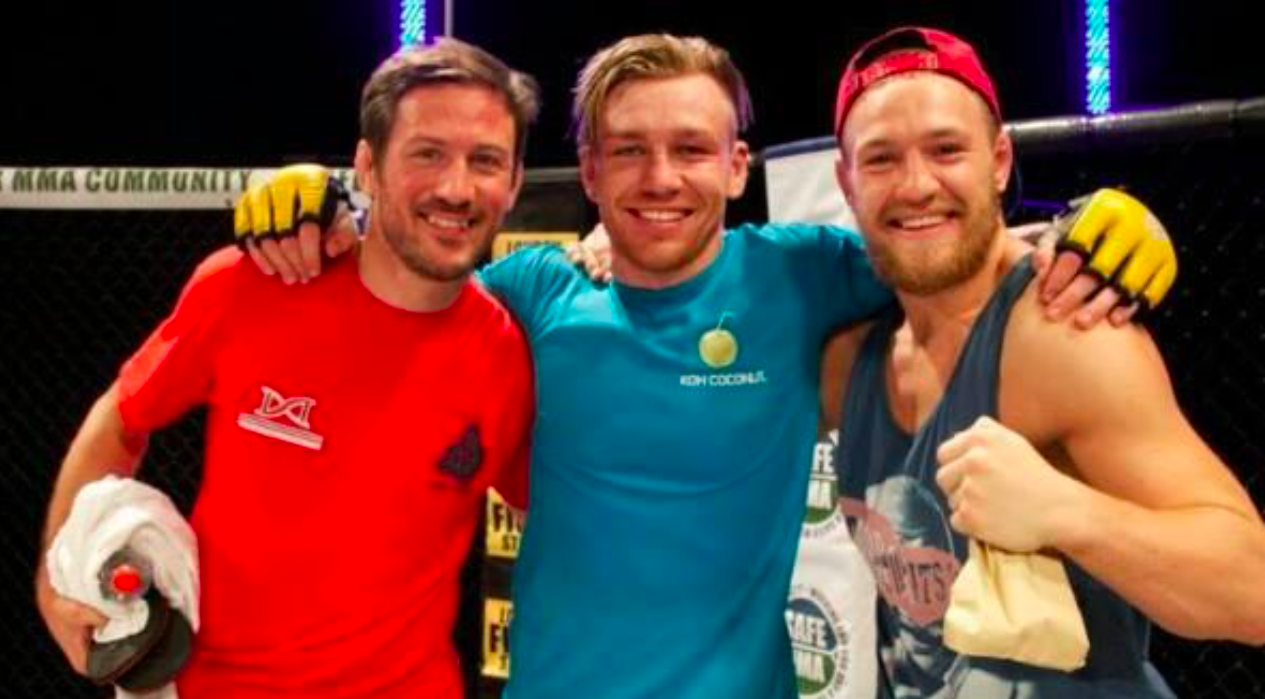 2020 has been a disastrous year for many gyms across the world forced to grapple with the enforced closures brought about by the ongoing impact of COVID-19. 
One such gym feeling the pinch was one of SBG's satellite gyms in Ireland: SBG Portarlington, known to some as SBG Port. The facility, led by longtime SBG fighter Philip 'The Honeybadger' Mulpeter, announced over the weekend that they had been forced to permanently shut their doors due to the massive financial impact of the coronavirus.
However, that was soon to change after Conor McGregor — a frequent training partner of Mulpeter's over the years — stepped in to ensure that the gym would stay open.
As was revealed by GAMA (Gaelic Athletic Martial Arts) on Instagram, McGregor's eleventh-hour intervention has not only saved the gym, but added further foundation to the growth of mixed martial arts in Ireland.
"GAMA founder Philip Mulpeter was forced to close his gym after 4 years due to overdue rent and the fact that Covid 19 had devastated his gym," the post reads.
"As everyone who has competed at GAMA knows SBG Port is so much more than a gym. It's a home, a school, a community, and a family. Philip and his wife Alvina have had a massive impact on everyone who steps foot on their mats each week, and through GAMA, the wider MMA and BJJ community. Without them there would be no GAMA.
View this post on Instagram
"With SBG Port closed, the outlook for GAMA surviving was also looking extremely bleak. However, in a true act of honour, Conor McGregor stepped in to help his friend and team mate Philip by saving SBG Port.
"Conor and Philip started out together in a small sweaty gym in Dublin, before anyone in Ireland even knew what MMA was, before there was an Irish UFC world Champion, an Irish UFC double champion, and before Conor shook the world.
"No matter how much fame and stardom Conor gains, he never forgets where he came from and the people who helped along the way. This is a true testiment to the complex character of Conor. He leads by example, by doing. He continues to be an inspiration to the Irish Martial Arts community by not only the way he performs in the cage, but by how he acts outside it.
"This is a true martial arts story of loyalty, honour and respect."
Through what has been by all accounts a very challenging 2020, McGregor has made several charitable donations since the onset of COVID-19. He made several large scale donations for personal protective equipment (PPE) to frontline healthcare workers in Ireland, as well as the ongoing support for first responders as outlined by the Proper No. Twelve mission statement.
This latest financial injection from McGregor ensures that not only will the gym be able to move forward, it will also be a massive boost to the local fighters and fitness enthusiasts in the area for a long time to come.
Comments
comments