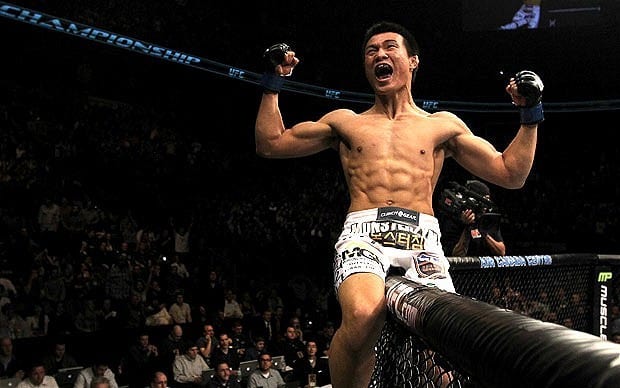 Try as he might, it doesn't appear very likely that Jeremy Stephens will ever live this one down.
For some fans, the phrase "who the fuck is that guy?" will forever by synonymous with Jeremy Stephens after Conor McGregor's infamous riposte to Jeremy Stephens' at last year's UFC 205 press conference.
And now, a year on, the retort is still being used against him.
Stephens, who looked impressive in his unanimous decision win against Gilbert Melendez at UFC 215 last weekend, had been angling for a bout with José Aldo but with the Brazilian all but announced to fight Ricardo Lamas in December Stephens has been left looking for an alternate dance parter.
Enter 'The Korean Zombie' Chan Sung Jung and, well, we think you know where this one is going.
Hearing Jose doesn't want none..?🤦‍♂️What's up w/ Korean Zombie? I'd like to fight him too. Any translators that can get him to step up?

— Jeremy Stephens (@LiLHeathenMMA) September 18, 2017
@LiLHeathenMMA 🤣🤣 pic.twitter.com/pw9E58xPgu

— Chan Sung Jung (@KoreanZombieMMA) September 19, 2017
Jung, once a title contender at 145-pounds, took temporary leave from mixed martial arts to fulfill his national military duty in his native South Korea (something that Doo Ho Choi will have to do at some point, incidentally) but returned last February with a stunning first round knockout of Dennis Bermudez in Houston.
Stephens' win over Melendez snapped a two-fight streak of losses and he is now 3-3 going back to a stunning win of his own against Bermudez at UFC 189 in the summer of 2015.
H/T MMAJUNKIE
Comments
comments