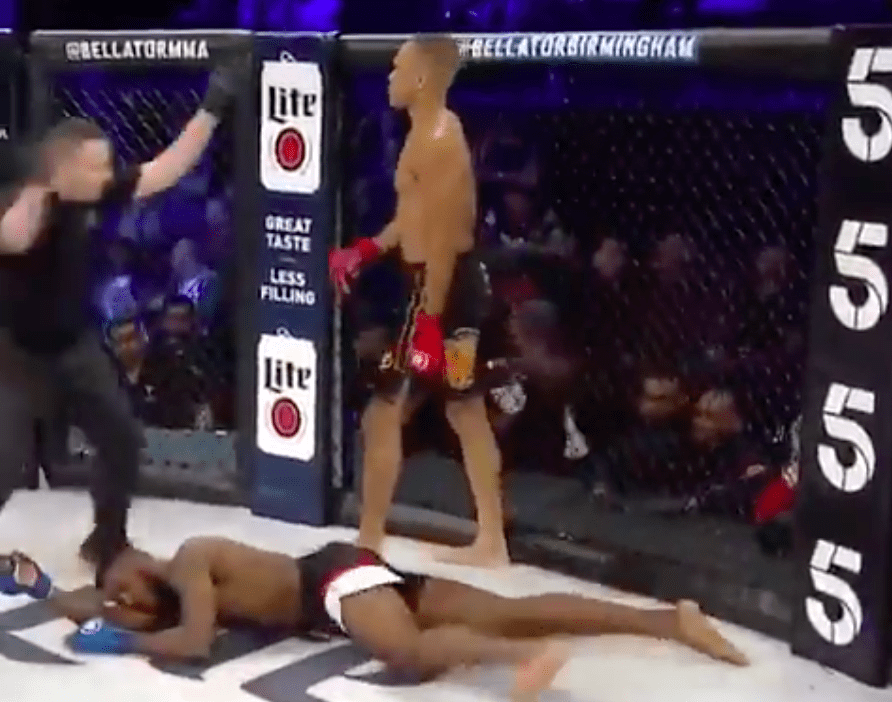 This one will live long in the memory.
Raymond Daniels, the Bellator kickboxing welterweight champion, earned his first mixed martial arts victory at the promotion's event in Birmingham, England, on Saturday, stunning the debuting Wilker Barros with a sensation '720 right hook' to claim a first round finish.
The 38-3 kickboxer, who holds wins in that discipline against Stephen 'Wonderboy' Thompson and Michael 'Venom' Page, lost his first MMA bout more than a decade ago by submission on a Strikeforce card but more than put that behind him inside the Bellator cage, first sending Barros to the seat of his pants with a spinning body kick.
If that was a spectacular technique in and of its own right, what came next was out of this world. Daniels pushed forward looking for an opportunity for another spinning technique. Barros, mindful of the threat, backed away and raised a hand to protect his chin. When the spinning kick never came, Barros dropped his guard — literally — and tried to throw a strike of his own.
Bad move. Daniels continued his momentum from the aborted spin kick effort into a thunderous right hook which connected flush on Barros' chin and sending a reverberation of the shot throughout the arena.
Check out the finish below:
He did what? 😧 (via @BellatorMMA)

*signs up for @RD_GOAT's spin class* pic.twitter.com/5k1J02Tgv7

— ESPN MMA (@espnmma) May 4, 2019
–
Comments
comments