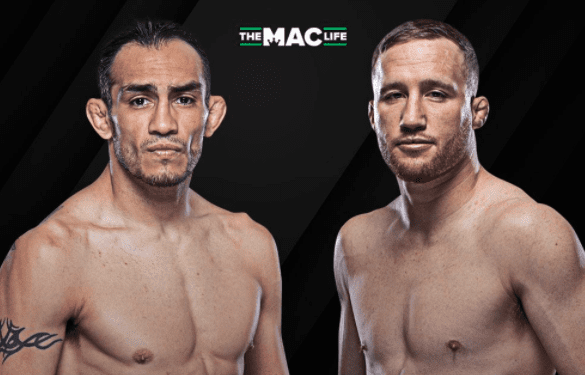 Justin Gaethje plans to revert to type for this weekend's UFC 249 headliner against Tony Ferguson. 
Known as one of the sport's most aggressive fighters, Gaethje says that he will be bringing his typical forward pressure to the cage in Florida on Saturday — and he doesn't think that Tony Ferguson will be capable of maintaining his pace.
"Tony Ferguson is a great competitor, 12 wins in a row – but I knock him out cold," Gaethje said to UFC PR. "I'm gonna fight until I'm finished, or I'm gonna fight until Tony's finished. That's what I've always done. I possess the power to turn his lights off, and I believe I will."
Since his UFC debut, Gaethje has been involved in nothing but entertaining fights, but in almost all of them he seems to be in trouble for at least a brief moment. However, he has developed a reputation for fighting through these incident and often in dramatic fashion — to the tune of seven UFC bonuses in six fight.
"My work ethic comes through my genetics," he said. "Three generations working in the copper mines in Arizona, both sides of my family. You know, hard work was instilled in me. I give max effort and outside that I don't care what happens, that's what makes me so dangerous."
Gaethje's coach, Trevor Wittman, says that this mindset allows his fighter to be at his best inside the cage.
"Justin's got such a unique mental state to him that he's just like, 'Oh, who cares?' That allows him not to hesitate," Wittman said. "He goes out there and he tries things and he puts on exciting fights. So if you got a guy who can go out there and finish people and has been consistent, you've got a great shot."
****
Justin Gaethje takes on Tony Ferguson in the UFC 249 headliner with the interim UFC lightweight championship up for grabs. You can check out the latest odds for that fight and all of the others via our official betting partner Parimatch.
Comments
comments