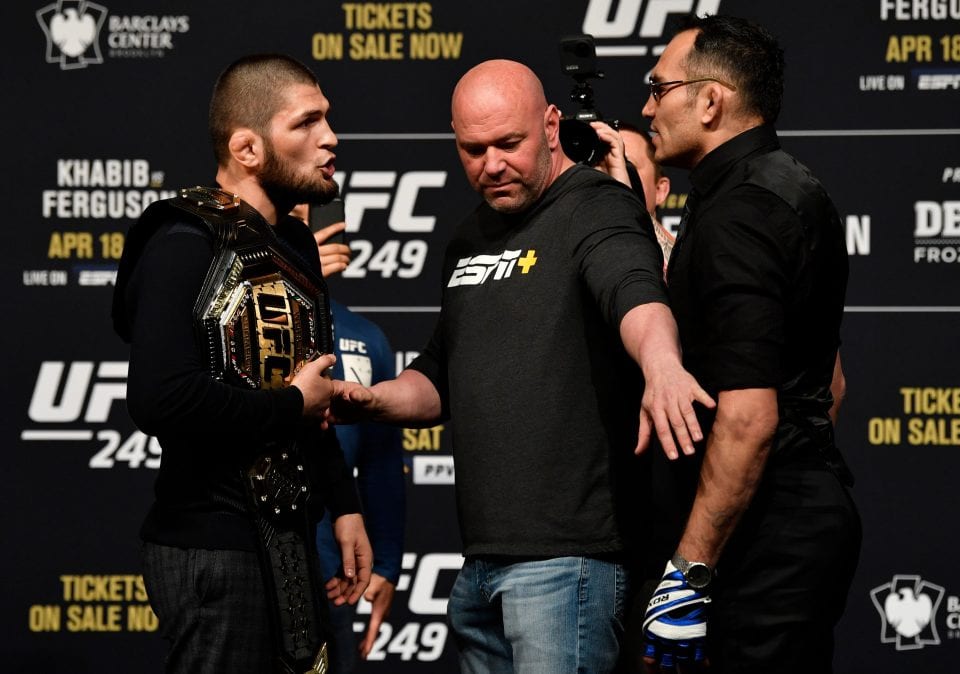 Khabib Nurmagomedov has confirmed he will not be fighting on April 18.
The UFC has been desperate to put on a lightweight title fight between Nurmagomedov and contender Tony Ferguson, with UFC president Dana White battling against logistical issues for weeks as he attempts to get both men in a cage on their scheduled date.
Now, it seems, Nurmagomedov has deemed it not worth going ahead with after the chaos the coronavirus pandemic has brought on. The Russian made an announcement via his social media on Wednesday, saying time with his family and seeing the reaction to COVID-19 around the glove has made him realise fighting is not the correct thing to do at this time.
"Staying home in quarantine and reading the reaction of people to the situation around my fight, it turns out that the whole world should be in quarantine, governments of all countries, famous people around the world urge people to follow all safety requirements in order to limit the spread of the disease, to save people, and Khabib is the only one relieved of all obligations and must demonstrate free will and train flying around the world, for the sake of fight?" Nurmagomedov wrote.
"I understand everything and I'm definitely upset more than you to cancel the fight, probably like all others, I had many plans after the fight, but I can't control it all. The greatest countries and the largest companies of our time are shocked by what is happening, every day the situation changes unpredictably.
"But Khabib still has to fight, is that what you saying? Take care of yourself and put yourself in my shoes."
It's believed the UFC were preparing for the chance Nurmagomedov wouldn't be able to compete, and Justin Gaethje has been offered a chance to step in against Ferguson. It's as yet unknown what Ferguson's decision will be.
Comments
comments