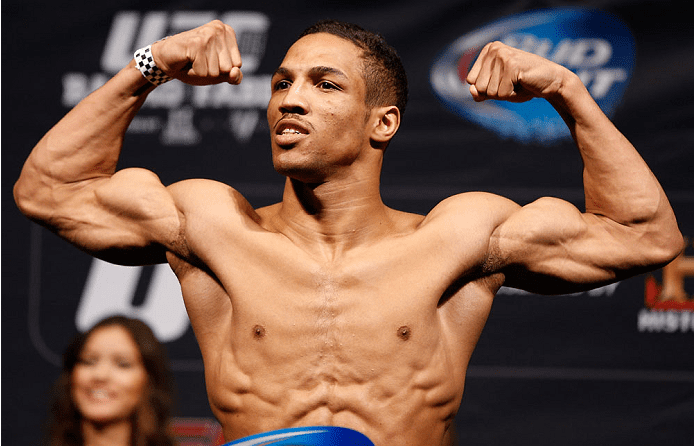 At UFC 216 this weekend, Kevin Lee will meet Tony Ferguson to determine the interim titleholder in a lightweight division currently ruled by Conor McGregor.
Ferguson has long been considered by pundits as a suitable name to appear in the upper echelon of the UFC's 155-pound fold on the back of his nine-fight win streak. Lee, on the other hand, is a relatively new name in the lightweight title picture, having usurped Khabib Nurmagomedov in the reckoning for the division's second belt.
Many had expected the undefeated Russian to contest the interim bout with Tony Ferguson. The UFC tried and failed on three separate occasions (most recently earlier this year at UFC 209) to pair Nurmagomedov and Ferguson. The Dagestani's lengthy injury woes meant that when the opportunity came knocking, he was unable to answer.
Enter Kevin Lee.
One of the 155-p0und division's rising stars, 'The Motown Phenom' has made an impact since making his debut with a loss opposite Al Iaquinta in February 2014. The 25-year-old is currently riding a five fight win streak and he knows that if he increases that number to six, he will head home with a gold belt in his carry-on luggage.
In this instance, it seems that Nurmagomedov's problems and Kevin Lee's opportunities. Speaking to the media (as transcribed by MMAFighting's Dave Doyle) Lee asserted that it was the Russian's reluctance to challenge himself which, along with his heavily publicised troubles with injury, which had led to him being skipped over in the 155-pound title picture — even with his 24-0 record still intact.
"The man don't fight! So, what can I do? What can I do? How longs that dude been out? How long, it's been over a year now? He doesn't want to fight nobody, really. He doesn't want to fight nobody that proves to be a challenge to him. He wants to hold on to that imaginary '0' that he thinks he's got.
If he proves successful this weekend in his first title bout, Lee says he would welcome the chance to face Nurmagomedov in December but wants to see Conor McGregor's immediate schedule before making any hasty decisions.
"I said I'd take [Nurmagomedov] on in December, Dec. 2, but I don't know," Lee continued. "Now Conor's saying that saying he might come back earlier, so, we'll see. We'll see how this one shakes up after. I'm interested in that, I'm interested in taking on Tony, and then fighting Khabib in December, and then defending the title against Conor, but we'll see how things shake out."
All of this, however, is for naught unless Lee delivers in the biggest fight of his career in the main event at UFC 216 on Saturday.
Comments
comments