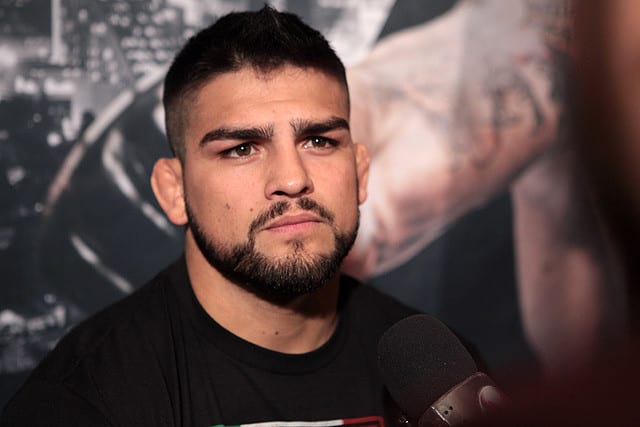 Kelvin Gastelum's win over Vitor Belfort has been overturned into a no contest, following the young up-and-comer's failed USADA test for marijuana metabolites.
Gastelum will also be suspended for three months, retroactive from the time of the test, which was conducted in-competition by the anti-doping agency carried out in March. 20% of Gastelum's purse will now be awarded to Belfort.
MMAJunkie first reported the news, along with releasing the following statement from the Brazilian authorities, the CABMMA:
"Marcelo Sedlmayer Jorge, president of the Superior Sports Justice Court – MMA and the entity's attorney (Emmanuel Guedes Ferreira), in a joint effort with CABMMA, represented by Cristiano Sampaio, have formalized an agreement with the athlete Kelvin Gastelum, his lawyers and USADA.
"The athlete has officially confessed to the use of the Carboxy-THC substance, has publicly apologized. The athlete makes a commitment not to break any other norm of the sport, under risk of aggravated penalties due to repeated offense."
While three months is by no means the most egregious of suspensions, and the nature of Gastelum being in-completion at the time of test resulting in this being something of a cut and dry case, there continues to be questions about the status of marijuana as a performance enhancing drug in the sport.
And, of course Gastelum's suspension appears to have repercussions beyond his own immediate future. The 25-year old was scheduled to face UFC legend Anderson Silva at UFC 212, and his being pulled from that fight has started the chain of reactions to where we currently have Anderson Silva claiming he will retire should Gastelum not be replaced with an interim title fight against Yoel Romero.
Comments
comments