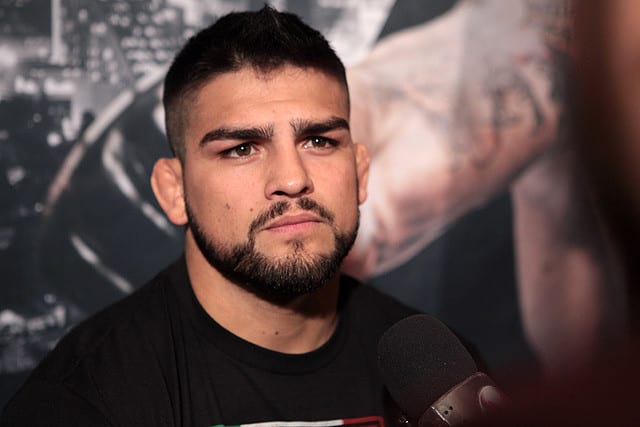 Kelvin Gastelum didn't necessarily expect to find himself in the UFC's middleweight division at this point in his career but now that he is here, the 25-year-old Californian intends to make the most of it.
Back in November Gastelum caused the cancellation of a welterweight bout with Donald Cerrone at UFC 205 in Madison Square Garden by failing to report to the weigh-ins; a result of complications during his weight cut which led to him being 10-pounds over the 170-pound limit ahead of stepping on the scales. As this was his third such infraction ahead of a fight, the UFC mandated a move to 185-pounds for the former Ultimate Fighter winner — a move from which Gastelum hasn't looked back since.
His first appointment in his new division saw Gastelum use a mix of speed and potent striking to flummox veteran fighter Tim Kennedy at UFC 206 last December and he followed that with a convincing first round victory over local favourite Vitor Belfort at the UFC event in Fortaleza last Saturday.
And the next fighter in Gastelum's firing line at 185-pounds? Perhaps the biggest name of them all: Anderson Silva.
Gastelum wants to continue his, as he puts it, "legends all-whooping tour" against the Brazilian legend in Rio at UFC 212.
"It's a combination of a lot of things. (Silva) is a big name, he's another legend, and he's ranked above me," Gastelum said at the post-fight press conference. "I want to keep moving up the rankings. I want a fight that will get me, that will eventually give me a title shot. If we wanna go and make it happen in June 3rd in Rio, I'd love for it to happen", said as quoted by MMAFighting.
The Kings MMA fighter says that he feels comfortable at his new weight and it would take a "number one contender" bout to get him to return to the weight class in which he spent the majority of his career.
"I said I wanted to get a fight that interests me at middleweight," he added. "If I get a fight that interests me at middleweight I'd definitely stay, and Anderson is one of those guys that would I definitely be interested to fight."
Comments
comments