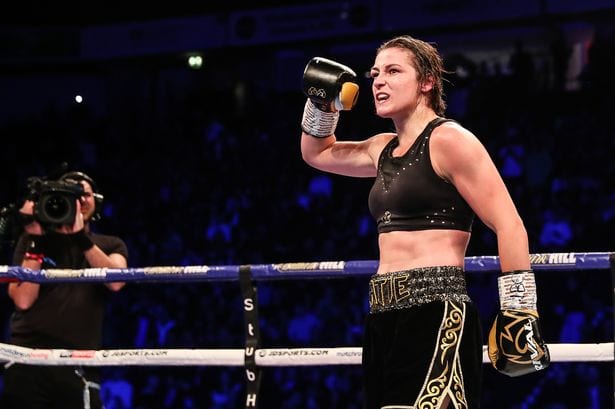 Women's boxing is about as popular as it has even been right now.
Katie Taylor is one of the sport's biggest stars today, in either the male or female ranks, and is strongly linked to what will be the biggest fight in female boxing history later this year against seven-weight world champion Amanda Serrano — but the third fighter among the trifecta of women's boxers at the top of the sport, Claressa Shields, has been casting glances elsewhere.
Shields is 1-1 in her developing MMA career thus far, with the two-time Olympic gold medalist currently testing the waters in the PFL ahead of an ambition of entering one of their tournaments in 2023.
Taylor, though, has long resisted any talk of her trying her hands at MMA — and suggested to Ariel Helwani on a recent edition of The MMA Hour (via MMA Fighting) that Shields should do the same at this point in her career.
"I definitely didn't expect that," said Taylor of Shields' entry in full contact fighting. "But I thought it was a fantastic challenge for her to take on, because boxing and MMA are two completely different sports. It's very, very hard for anyone in boxing to cross over, because obviously we have no ground game.
"If anybody got me to the ground, for example, it would be a huge problem for me. I think obviously you always have a puncher's chance maybe, but it's a priority — it's very, very hard to stay on your feet. So I think it was an admirable challenge for her to take on. But I would love for her just to focus on boxing now."
Shields' weight all but rules out any potential fight with either Taylor or Serrano but the Irish woman says that there are a range of interesting challenges on the horizon for the 26-year-old.
There's a lot of big fights out there for her," Taylor stated. "The likes of Savannah Marshall, who's a fantastic world champion fighter, and I think Savannah actually beat her as an amateur fighter, so that is a huge, huge, huge fight for them. It's probably one of the biggest fights in women's boxing."
As for Taylor, the sport's biggest star, she says that she is happy to have helped in the transition of women's boxing being a niche sport to what it is today — and she said that when she signed up with promoter Eddie Hearn, the ambition was to make her sport as popular as the women's divisions in the UFC.
Actually the first meeting that I ever had with [boxing promoter] Eddie Hearn just before I turned pro was, I wanted to take women's boxing to where women's MMA had gone where they're actually headlining shows, where they're actually the biggest names in the UFC, the likes of Ronda Rousey, Amanda Nunes," Taylor said.
"These kind of fighters are absolutely headline acts, and that's exactly where I wanted women's boxing to go. And I think we have broken a lot of boundaries over these last few years, we have covered a lot of ground. But we still obviously have a long way to go."
Comments
comments